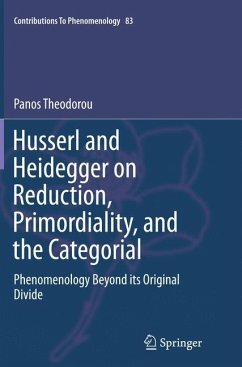 Andere Kunden interessierten sich
auch
für


The author revisits these fundamental issues in order to suggest a general intra-phenomenological settlement, and to do justice to the corresponding contributions of these two central figures in phenomenological philosophy. He also indicates a way of reconciling and interweaving some of their views in order to free Phenomenology from its inner divisions and limitations, enabling it to move forward. Phenomenology can re-examine itself, its obligations, and its possibilities, and this can be of benefit to contemporary philosophy, especially with regard to problems concerning consciousness, intentionality, experience, and human existence and praxis within a historical world in crisis.

This book is ideally suited to students and scholars of Husserl and Heidegger, to philosophers of mind, consciousness and cognition, and to anyone with a serious interest in Phenomenology.

Produktdetails
Contributions to Phenomenology 83
Verlag: Springer / Springer, Berlin
Artikelnr. des Verlages: 978-3-319-36709-5
Softcover reprint of the original 1st ed. 2015
Seitenzahl: 408
Erscheinungstermin: 22. Oktober 2016
Englisch
Abmessung: 235mm x 155mm x 21mm
Gewicht: 623g
ISBN-13: 9783319367095
ISBN-10: 3319367099
Artikelnr.: 48943211
Part I Introduction.- Chapter 1 Introduction.- Part II Method and Possibilities of Phenomenology.- Chapter 2 The Phenomenological Reductions in Husserl's Phenomenology.- Chapter 3 Heidegger and the Phenomenological Reductions in Husserl.- Part III Key Husserlian Teachings And Heidegger's View.- Chapter 4 Perception And 'Action': On The Praxial Structure of Intentional Consciousness.- Chapter 5 Perceptual and Scientific Thing: On Husserl's Analysis of "Nature-Thing" in Ideas.- Chapter 6 Primordial Givenness in Husserl and Heidegger.- Chapter 7 The Question of 'Categoriality' in Husserl's Analysis of Perception and Heidegger's View of It.- Part IV Heidegger's Advancement and Course.- Chapter 8 Husserl's Doctrine of "Categorial Intuition" and Heidegger's Seinsfrage.- Chapter 9 The Phenomenology of Anxiety and Nothing: Ontology and Logic in Heidegger.- Part V Phenomenology at its Limits.- Chapter 10 Hence and Thence Phenomenology's Borderline.- Bibliography.

.
---