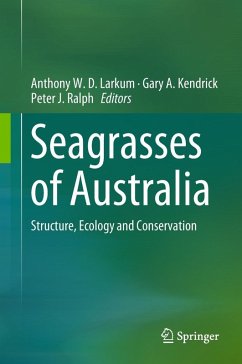 There are chapters on taxonomy, floral biology, biogeography and regional studies. The regional studies emphasize the importance of Australia having over half of the world's 62 species, including some ten species published for Australia since the previous book. There are a number of chapters on ecology and biogeography; fish biology and fisheries and dugong biology are prominent chapters. Physiological aspects again play an important part, including new knowledge on the role of hydrogen sulphide in sediments and on photosynthetic processes. Climate change, pollution and environmental degradation this time gain an even more important part of the book. Decline of seagrasses around Australia are also discussed in detail in several chapters. Since the first book was published two new areas have received special attention: blue carbon and genomic studies. Seagrasses are now known to be a very important player in the formation of blue carbon, i.e. carbon that has a long turnover time in soils and sediments. Alongside salt marshes and mangroves, seagrasses are now recognized as playing a very important role in the formation of blue carbon. And because Australia has such an abundance and variety of seagrasses, their role in blue carbon production and turnover is of great importance. The first whole genomes of seagrasses are now available and Australia has played an important role here. It appears that seagrasses have several different suites of genes as compared with other (land) plants and even in comparison with freshwater hydrophytes. This difference is leading to important molecular biological studies where the new knowledge will be important to the understanding and conservation of seagrass ecosystems in Australia. Thus by reason of its natural abundance of diverse seagrasses and a sophisticated seagrass research community in Australia it is possible to produce a book which will be attractive to marine biologists, coastal scientists and conservationists from many countries around the world.
---
Dieser Download kann aus rechtlichen Gründen nur mit Rechnungsadresse in A, B, BG, CY, CZ, D, DK, EW, E, FIN, F, GB, GR, HR, H, IRL, I, LT, L, LR, M, NL, PL, P, R, S, SLO, SK ausgeliefert werden.
Produktdetails
Verlag: Springer-Verlag GmbH
Erscheinungstermin: 27.07.2018
Englisch
ISBN-13: 9783319713540
Artikelnr.: 53432887
A. Biogeography.- 1. Evolution and Biogeography of Australian Seagrasses; Anthony Larkum et al. - 2. Biogeography of Australian seagrasses NSW, Victoria, Tasmania and temperate Queensland; Peter Macreadie et al .- 3. Seagrasses of southern and south-western Australia; Kieryn Kilminster et al .- B. Taxonomy and Anatomy.- 4. Anatomy and Structure of Australian Seagrasses; John Kuo et al .- C. Molecular and Taxonomic Studies.- 5. Systematics and evolution of Australian seagrasses in a global context; Michelle Waycott et al .- 6. Genetic Connectivity in Tropical and Temperate Australian Seagrass Species; Kathryn McMahon et al .- D. Ecology.- 7. Seagrass dynamics and resilience; Rod Connolly et al .- 8. Reproductive, Dispersal and Recruitment Strategies in Australian Seagrasses; Craig Sherman et al .- 9. Australian Seagrass Seascapes: present understanding and future research directions; Gary A. Kendrick et al .- 10 . Seagrass resistance to light deprivation: implications for resilience; Katherine O'Brien et al .- E. Physiology.- 11. Photosynthesis and Metabolism; Anthony Larkum et al .- 12. Microbiology of Seagrass habitats; Justin Seymour et al .- 13. Rhizome, Root/Sediment interactions, Aerenchyma and Internal Pressure Changes in Australian Seagrasses; Kasper Elgetti Brodersen et al .- 14. Seagrasses in the south-east Australian region - distribution, metabolism, and morphology in response to hydrodynamic, substrate, and water quality stressors; Angus Ferguson et al .- 15. Mapping, Monitoring and Modelling Seagrass; Stuart Phinn et al .- F. Fauna.- 16. The role of consumers in structuring seagrass communities: direct and indirect mechanisms; Robert J Nowicki et al .- 17. Faunal Assemblages of Seagrass Ecosystems; Paul York et al .- 18. The roles of seagrasses in structuring associated fish assemblages and fisheries; Glenn Hyndes et al .- 19. Dugongs: Seagrass community specialists; Helene Marsh et al .- G. Pollution & Global Climate Change.- 20. Decline and Restoration Ecology of Australian Seagrasses; John Statton et al .- 21. Global Warming and Ocean Acidification: Effects on Australian Seagrass Ecosystems; Ylva Olsen et al .- 22. Estimating seagrass blue carbon and policy implications: the Australian perspective; Peter J Ralph et al .- 23. Conclusions.- Appendix: Taxonomy of Australian Seagrasses; John Kuo et al .- Index.