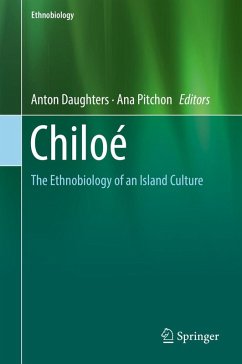 ---
Dieser Download kann aus rechtlichen Gründen nur mit Rechnungsadresse in A, B, BG, CY, CZ, D, DK, EW, E, FIN, F, GB, GR, HR, H, IRL, I, LT, L, LR, M, NL, PL, P, R, S, SLO, SK ausgeliefert werden.
Produktdetails
Verlag: Springer-Verlag GmbH
Erscheinungstermin: 04.07.2018
Englisch
ISBN-13: 9783319919836
Artikelnr.: 53148953
Table of Contents (DRAFT, May 2016) Preface 1) Introduction-history of Chiloé, salmon crisis of 2007, red tide crisis of 2016,unique attributes, ethnobiology overview (Ana Pitchon and Anton Daughters)
2) Subsistence fishing (Ricardo Alvarez)
3) Salmon farming-history of salmon farming on archipelago, cycles of boom and bust, environmental impact, social impact [more on the 2016 crisis here] (Ana Pitchon and Anton Daughters)
4) Shellfish cultivation (maybe David Tecklin)
5) Marine conservation or coastal wetlands (David Tecklin)
6) Traditional farming (Richard Vercoe)
<7) Potatoes (Kyle Piispanen)-history, types of potatoes, centrality to subsistence, use in culture and lore
8) Chicha production and the maja de manzana (Anton Daughters)
9) Ethnographic case study of ethnobiology of a rural community (Giovanna Bacchiddu)
10) General ethnobotany of Chiloé (Giovanna Bacchiddu or Anton Daughters)-unique plants and animals, herbal remedies and local beliefs, connection to lore, local mythology, etc.
11) Conclusion (Ana Pitchon and Anton Daughters) Index
List of Contributors (As of May, 2016) Ana Pitchon: San Jose State University, Department of Anthropology Anton Daughters: Truman State University, Department of Society & Environment Richard Vercoe: University of Georgia, Department of Geography David Tecklin: Universidad Austral de Chile, Valdivia.