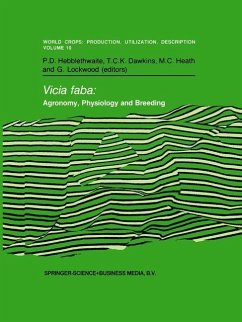 Andere Kunden interessierten sich
auch
für
---
Dieser Download kann aus rechtlichen Gründen nur mit Rechnungsadresse in A, B, BG, CY, CZ, D, DK, EW, E, FIN, F, GR, HR, H, IRL, I, LT, L, LR, M, NL, PL, P, R, S, SLO, SK ausgeliefert werden.
Produktdetails
Verlag: Springer Netherlands
Seitenzahl: 333
Erscheinungstermin: 11. November 2013
Englisch
ISBN-13: 9789401736473
Artikelnr.: 44172003
Physiology and Agronomy.- Components of the Yield and Yield of Vicia Faba.- Proposal of a Growth Stages Key for Vicia Faba.- Vascular Development in the Reproductive Tissues of Vicia Faba L..- Growth Habit in Relation to Assimilate Partitioning and Some Consequences for Field Bean Breeding.- Nitrate Reduction in Vicia Faba Grown at Different Temperatures.- Effect of Plant Growth Regulator Combinations on Faba Bean Development and Yield Components.- Effects of Water Stress on Some Growth Parameters and Yields of Field Bean Crops.- Vegetative and Reproductive Growth of Faba Beans (Vicia Faba L.) as Influenced by Water Supply.- The Effect of Irrigation and Bees on the Yield and Yield Components of Vicia Faba L..- Behaviour of Field Bean Lines with a Water Table Maintained at Different Levels.- Evaluation of Seed Metering Devices for Sowing Grain Legumes.- The Effects of Poor Soil Physical Conditions on the Growth and Yield of Vicia Faba.- Effect of Seed Source on Performance of Faba Bean Varieties.- Recent Developments in Forecasting Aphis Fabae Damage and Control, and Its Implications for Other Pests of Vicia Faba.- The Potential of Whole-Crop Vicia Faba for Ensilage.- Some Results Obtained in Belgium on Growth, Yield and Quality of Vicia Faba Harvested in Grain or for Whole Crop Silage.- Influence of Density on the Growth and Development of Winter Field Bean (Vicia Faba).- Results of the Joint Faba Bean and PEA Trials of the Years 1980-1982.- Yield Stability of Faba Beans and Peas in EEC Joint Trials 1980-82.- Faba Beans in China : Some Facts and Personal Observations, Particularly Concerning Virus Diseases.- Breeding and Cytogenetics.- Selection Methods for Yield Improvement in Faba Beans.- Barriers to Interspecific Hybridisation between Vicia Faba and other Species of Section Faba.- Breeding for Self-Fertility.- A Design for Testing Some Genotype x Environment Interactions.- Microdensitometric Analysis of Vicia Faba L. Chromosome Images.- Variability Induced by a Dicentric Chromosome in Vicia faba L..- Faba Bean Cytogenetics at Cordoba, Spain.- The Incidence of Ovule Fertilization in Faba Bean Flowers from Commercial Crops and from Experimental Plots of Contrasting Genotypes.- New Developments in Cytoplasmic Male Sterility in Vicia faba L..- Instability of Cytoplasmic Male Sterility in Vicia Faba: Role of Temperature at Meiosis.- Nutrition and Quality.- An Assessment of the Potential for Improving the Nutritive Value of Field Beans (Vicia Faba) - A Progress Report.- Quantitative Measurement of Quality Determining Constituents in Seeds of Different Inbred Lines from a World Collection of Vicia Faba.- Antinutritional and Favism Inducing Factors in Vicia Faba L.: Nutritional Value of Faba Beans; Metabolism and Properties of Vicine, Convicine and Dopa-Glucoside.- Conclusions.- Faba Bean Research in Europe.- Cytogenetics.- General Discussion and Recommendations.- General Discussion and Recommendations.- Dr. IR. G. Dantuma 1924 - 1983.- Dr. IR. G. Dantuma 1924 - 1983.