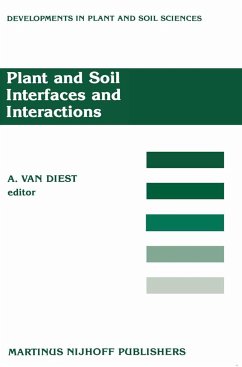 Produktdetails
Developments in Plant and Soil Sciences 28
Verlag: Springer / Springer Netherlands
Artikelnr. des Verlages: 978-90-247-3535-8
1987
Seitenzahl: 381
Erscheinungstermin: August 1987
Englisch
Gewicht: 830g
ISBN-13: 9789024735358
ISBN-10: 9024735351
Artikelnr.: 24457859
Nitrogen fertilization in citrus orchards.- Soil-oxygen and plant-root interaction: An electrical analog study.- Effect of calcium on the absorption and translocation of heavy metals in excised barley roots: Multicompartment transport box experiment.- Influence of differences in nutrition on important quality characteristics of some agricultural crops.- Nitrogen transformation processes in relation to improved cultural practices for lowland rice.- Nitrogen budgets in flooded soils used for rice production.- The effects of low, regulated supplies of nitrate and ammonium nitrogen on the growth and composition of perennial ryegrass.- Changes in P forms and availability as influenced by management practices.- The mechanism of rock phosphate solubilization in the rhizosphere.- The rock-phosphate solubilizing capacity of Pueraria javanica as affected by soil pH, superphosphate priming effect and symbiotic N2 fixation.- Relative efficiency of nitrogen fixation and the occurrence of hydrogenase in pea root nodules.- Metabolism and translocation of fixed nitrogen in the nodulated legume.- Co-evolution of the legume-Rhizobium association.- Endophyte transmission and activity in the Anabaena-Azolla association.- 15N-determined effect of inoculation with N2 fixing bacteria on nitrogen assimilation in Western Canadian wheats.- Total and CO-reactive heme content of actinorhizal nodules and the roots of some non-nodulated plants.- Biological control of nematodes: Soil amendments and microbial antagonists.- Practical aspects of mycorrhizal technology in some tropical crops and pastures.- Effect of spore concentration on germination and autotropism in Trichoderma hamatum.- The effect of fertilization on litter decomposition in clearfelled spruce stands.- The effect of spray volume on spray partitioning between plant and soil.- Comparative Study of soil bacterial flora as influenced by the application of a pesticide, pentachloorphenol (PCP).- Response of cassava to water stress.- Activity of root systems of six plant species at different stages of development.