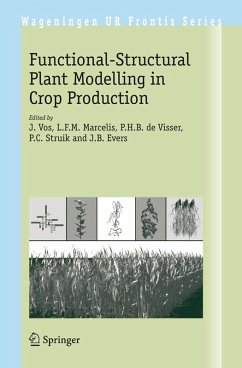 The book is for anyone interested in innovative approaches to plant and crop modelling.
Produktdetails
Wageningen UR Frontis Series Nr.22
Verlag: Springer Netherlands
Artikelnr. des Verlages: 12030989
Erscheinungstermin: 30. März 2007
Englisch
Abmessung: 238mm x 159mm x 19mm
Gewicht: 427g
ISBN-13: 9781402060335
ISBN-10: 1402060335
Artikelnr.: 22923500
Functional-Structural Plant Modelling in Crop Production.- Measurements for Functional-Structural Crop Models.- The L+C Plant-Modelling Language.- Groimp as a Platform for Functional-Structural Modelling of Plants.- The Virtual Crop-Modelling System 'VICA' Specified for Barley.- A Mathematical Approach Estimating Source and Sink Functioning of Competing Organs.- Modelling the Light Environment of Virtual Crop Canopies.- Photosynthesis And Carbon Balance.- Concepts of Modelling Carbon Allocation Among Plant Organs.- Mechanistic Modelling of Carbon Partitioning.- Numerical Methods for Transport-Resistance Source-Sink Allocation Models.- L-Peach, an L-System-Based Model for Simulating Architecture, Carbohydrate Source-Sink Interactions and Physiological Responses of Growing Trees.- Canonical Modelling.- GRAAL: Growth, Architecture, Allocation.- Functional-Structural Modelling of Gramineae.- Functional-Structural Modelling of Faba Bean.- Functional-Structural Modelling of Chrysanthemum.- Towards Functional-Structural Modelling of Greenhouse Cucumber.- 3D Canopy Modelling as a Tool in Remote-Sensing Research.- Functional-Structural Modelling as a Potential Tool to Assess the Impact of Resource Competition on Arable Communities.- A Grammar-Based Model of Barley Including Virtual Breeding, Genetic Control and a Hormonal Metabolic Network.- Modelling Plant Canopies for Biocontrol and Biodiversity.