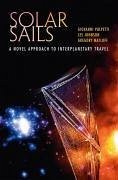 Andere Kunden interessierten sich
auch
für
---
Dieser Download kann aus rechtlichen Gründen nur mit Rechnungsadresse in A, B, BG, CY, CZ, D, DK, EW, E, FIN, F, GB, GR, HR, H, IRL, I, LT, L, LR, M, NL, PL, P, R, S, SLO, SK ausgeliefert werden.
Produktdetails
Verlag: Springer-Verlag GmbH
Erscheinungstermin: 05.03.2009
Englisch
ISBN-13: 9780387685007
Artikelnr.: 37286735
Acknowledgements.- Preface.- Foreword. Part I: Space Engines: Past and Present.- A Historical Introduction to Space Propulsion.- The Rocket: How It Works in Space.- Rocket Problems and Limitations- Non-Rocket-In-Space Propulsion.- The Solar-Sail Reality: from the Oceans to Space.- Part II Space Mission by Sail.- Principles of Space Sailing.- What is a Space Sailcraft?- Sails vs. Rockets.- Exploring and Developing Space by Sailcraft.- Riding a Beam of Light.- Part III Construction of Sailcraft.- Designing a Solar Sail.- Building a Sailcraft.- Progress to Date.- Future Plans.- Part IV Breakthroughs in Space.- The IKAROS/JAXA Mission.- The NanoSail-D2/NASA Mission.- New Projects in Progress.- Part V Space Sailing: Some Technical Aspects.- Space Sources of Light.- Modeling Thrust via Electromagnetic Radiation Pressure and Diffraction- Sailcraft Trajectories.- Sails in Space Environment.