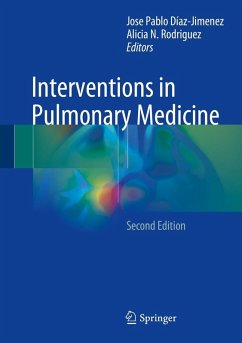 ---
Dieser Download kann aus rechtlichen Gründen nur mit Rechnungsadresse in A, B, BG, CY, CZ, D, DK, EW, E, FIN, F, GB, GR, HR, H, IRL, I, LT, L, LR, M, NL, PL, P, R, S, SLO, SK ausgeliefert werden.
Produktdetails
Verlag: Springer-Verlag GmbH
Erscheinungstermin: 21.11.2017
Englisch
ISBN-13: 9783319580364
Artikelnr.: 52999537
Part I: Basic Endoscopy.- Tracheobronchial Anatomy.- Flexible Bronchoscopy.- Ultrathin Bronchoscopy.- Rigid Bronchoscopy.- Anesthesia for Interventional Bronchoscopy Procedures.- Evaluating Outcomes After Interventional Procedures.- Bronchoscopy Education: New Insights.- Part II: Tracheobronchial Obstructions.- Reopening the Airways: Fast Methods.- Cryotherapy.- Endobronchial Brachytherapy.- Photodynamic Therapy for Early and Advanced Lung Cancer.- Benign Tracheal and Bronchial Stenosis.- Endobronchial Prosthesis.- Part III: Lung Cancer Diagnosis.- Early Lung Cancer: Methods for Detection.- Diagnostic of Lung Cancer: Confocal Bronchoscopy.- Optical Coherence Tomography.- Electromagnetical Navigation.- Lung Cancer Screening and the National Lung Cancer Screening Trial: Update.- Tissue Acquisition in Patients with Suspected Lung Cancer: Techniques Available to the Pulmonologist.- Lung Cancer Epidemiologic Changes.- Personalized Lung Cancer Treatment: A Team Work.- Part IV: Lung Cancer Staging.- The TNM Classification.- Mediastinoscopy and Its Variants.- Endobronchial Ultrasound: Basic Principles.- Endobronchial Ultrasound Clinical Applications.- Part V: Pleural Conditions.- Pleural Anatomy.- Medical Thoracoscopy.- Overview of the Spectrum of Chest Tubes: Disease-Specific Selection.- Part VI: Interventional Bronschoscopy in Asthma and Emphysema.- Endoscopic Methods for Lung Volume Reduction.- Transbronchoscopic Emphysema Treatment.- Endoscopic Lung Volume Reduction for Treatment of Advanced Emphysema Using Injectable Hydrogels.- Bronchial Thermoplasty.- Part VII: Interventional Bronchoscopy in Special Situations.- Percutaneous Tracheostomy.- Bronchoscopy Role in Interstitial Lung Disease.- Endoscopic Foreign Body Removal.- Interventional Pulmonology in the Intensive Care Unit.- Hempotisis: the Endoscopic Perspective.- Part VIII: Conclusions.- The Future of Interventional Bronchoscopy.
"The book is aimed primarily at interventional pulmonologists in training and in practice. However, the book would be equally useful for general pulmonologists in training and practice, as well as a reference for other medical practitioners. The book meets the needs of its intended audience. The contributors are well-known contemporary authorities on the different subjects, and most are extensively published and successful academicians. ... I highly recommend this book to all pulmonologists who wield a bronchoscope." (Santosh Dhungana, Doody's Book Reviews, March, 2018)