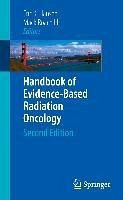 Geräte: PC

mit Kopierschutz
Handbook of Evidence-based Radiation Oncology,a portable reference that utilizes evidence-based medicine as the basis for practical treatment recommendations and guidelines. Organized by body site, concise clinical chapters provide easy access to critical information. Important "pearls" of epidemiology, anatomy, pathology, and clinical presentation are highlighted. Key facets of the work-up are listed, followed by staging and/or risk classification systems. Treatment recommendations are discussed based on stage, histology, and/or risk classification. Brief summaries of key trials and studies provide rationale for the recommendations. Practical guidelines for radiation techniques are described. Finally, complications and follow-up guidelines are outlined. Updates from the first edition include brand new color figures and color contouring mini-atlases for head and neck, gastrointestinal, prostate, and gynecological tumors; redesigned tables for increased readability; new chapters on management of the neck and unknown primary, clinical radiobiology, and pediatric malignancies and benign conditions; and new appendices including the American College of Radiology guidelines for administration of IV contrast.
Produktdetails
Verlag: Springer New York
Erscheinungstermin: 17.06.2010
Englisch
ISBN-13: 9780387929880
Artikelnr.: 37289165
Skin.- Skin Cancer.- Central Nervous System.- Central Nervous System.- Head and Neck.- Malignant and Benign Diseases of the Eye and Orbit.- Cancer of the Ear.- Nasopharyngeal Cancer.- Nasal Cavity and Paranasal Sinus Cancer.- Oropharyngeal Cancer.- Cancer of the Lip and Oral Cavity.- Larynx and Hypopharynx Cancer.- Salivary Gland Tumors.- Thyroid Cancer.- Unusual Neoplasms of the Head and Neck.- Management of the Neck and Unknown Primary of the Head and Neck.- Thorax.- Small Cell Lung Cancer.- Non-small Cell Lung Cancer.- Mesothelioma and Thymic Tumors.- Breast.- Breast Cancer.- Digestive System.- Esophageal Cancer.- Gastric Cancer.- Pancreatic Cancer.- Hepatobiliary Cancer.- Colorectal Cancer.- Anal Cancer.- Genitourinary Sites.- Renal Cell Carcinoma.- Bladder Cancer.- Prostate Cancer.- Cancer of the Penis.- Testicular Cancer.- Gynecologic Sites.- Cervical Cancer.- Endometrial Cancer.- Ovarian Cancer.- Vaginal Cancer.- Vulvar Cancer.- Urethral Cancer.- Lymphomas and Myeloma.- Hodgkin's Lymphoma.- Non-Hodgkin's Lymphoma.- Cutaneous Lymphomas.- Multiple Myeloma and Plasmacytoma.- Musculoskeletal Sites.- Bone Tumors.- Soft-Tissue Sarcoma.- Pediatric (Non-CNS).- Pediatric (Non-CNS) Tumors.- Palliation.- Palliation and Benign Conditions.- Clinical Radiobiology and Physics.- Erratum.- Erratum to: Prostate Cancer.
From the reviews of the second edition: "This is the second edition of comprehensive radiation oncology handbook that concisely summarizes treatment guidelines, staging, and pertinent studies for each organ system/pathology. ... The primary audience is radiation oncology physicians, both residents and senior level physicians, and medical students. Medical/surgical oncologists wishing to get a better perspective on the field of radiation oncology may find this book useful as well. ... This is a must - have handbook for any radiation oncology resident or student. It is also a very helpful guide for attending physicians." (James G. Douglas, Doody's Review Service, November, 2010) "This book developed out of a need for a reference text for doctors, fellows and students of radiation oncology. ... The aim of this book remains as a practical, quick reference guide. ... The text is well supported by evidence based medicine throughout. The reader is supplied with comprehensive data from international studies. ... In conclusion, I would recommend this handbook, especially to the trainee radiation oncologist, as it contains essential information on the major tumour sites along with the supporting evidence." (Karin Baria, Oncology News, Vol. 7 (3), July/August, 2012)