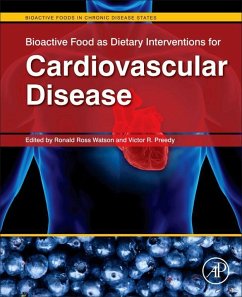 Geräte: eReader

mit Kopierschutz

Größe: 8.17MB
Bioactive Food as Dietary Interventions for Cardiovascular Disease
investigates the role of foods, herbs and novel extracts in moderating the pathology leading to cardiovascular disease. It reviews existing literature, and presents new hypotheses and conclusions on the effects of different bioactive components of the diet.
Addresses the most positive results from dietary interventions using bioactive foods to impact cardiovascular disease
Documents foods that can affect metabolic syndrome and other related conditions
Convenient, efficient and effective source that allows readers to identify potential uses of compounds - or indicate those compounds whose use may be of little or no health benefit
Associated information can be used to understand other diseases that share common etiological pathways
---
Dieser Download kann aus rechtlichen Gründen nur mit Rechnungsadresse in A, B, BG, CY, CZ, D, DK, EW, E, FIN, F, GR, HR, H, IRL, I, LT, L, LR, M, NL, PL, P, R, S, SLO, SK ausgeliefert werden.