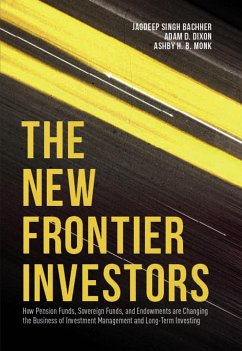 Andere Kunden interessierten sich
auch
für
The New Frontier Investorschronicles the rise of this new group of long horizon asset owners thatincludes some of the world's largest pension funds, sovereign wealth funds, andendowments. These asset owners are driving the business of asset management toa new frontier by retaking responsibility of the end-to-end management of theirinvestment portfolios and by re-conceptualizing investment decision-making.

Thelessons illustrated in The New FrontierInvestors fly in the face of conventional wisdom, which has it that theseasset owners are at a disadvantage to the private sector fund managers andother service providers. These asset owners are supposedly not able to attracttalent nor do they have the organizational capabilities to compete. That many arelocated far from the markets in which they invest only exacerbates the problem.But this is incorrect. This expanding group of asset owners is learning how tomake the most of their scale and long time horizons, finding new ways toattract talent, to collaborate, and to build greater alignment with the usersof capital. They are not at a disadvantage. They are at an advantage.

The New FrontierInvestorsis essential reading for anyone wanting to see a change in global financialmarkets and the professionalization of asset owners worldwide, from publicpension funds and sovereign wealth funds to foundations and endowments. It isthus required reading for the senior executives and employees working in thefield of beneficiary institutional investment, as well as government officialsand others that have a stake in the design and governance of beneficiaryfinancial institutions and long-term capital.


Produktdetails
Artikelnr. des Verlages: 978-1-137-50856-0
Erscheinungstermin: 18. Oktober 2016
Englisch
Abmessung: 246mm x 169mm x 17mm
Gewicht: 450g
ISBN-13: 9781137508560
ISBN-10: 1137508566
Artikelnr.: 44570514
1. The Foundations of Capitalism: Beneficiary Asset Managers.- 2. Unleashing Innovation through Better Governance.- 3. Unleashing Innovation through People.- 4. Unleashing Innovation through Collaboration.- 5. Unleashing Locational Advantage.- 6. The Valley of Opportunity: Bringing Innovation to Venture Capital.- 7. Does Transparency Restrict Innovation among Long-term Investors?.- 8. Catalyzing Development in a Short-term World.- 9. Ten Pillars for Centennial Performance

---