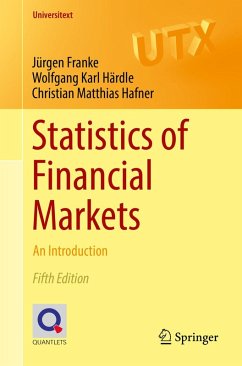 Geräte: PC

ohne Kopierschutz

Größe: 18.61MB
Andere Kunden interessierten sich
auch
für
For this new edition the book has been updated and extensively revised and now includes several new aspects such as neural networks, deep learning, and crypto-currencies. Both R and Matlab code, together with the data, can be downloaded from the book's product page and the Quantlet platform.
The Quantlet platform quantlet.de, quantlet.com, quantlet.org is an integrated QuantNet environment consisting of different types of statistics-related documents and program codes. Its goal is to promote reproducibility and offer a platform for sharing validated knowledge native to the social web. QuantNet and the corresponding Data-Driven Documents-based visualization allow readers to reproduce the tables, pictures and calculations inside this Springer book.
"This book provides an excellent introduction to the tools from probability and statistics necessary to analyze financial data. Clearly written and accessible, it will be very useful to students and practitioners alike."
Yacine Ait-Sahalia, Otto Hack 1903 Professor of Finance and Economics, Princeton University
---
Dieser Download kann aus rechtlichen Gründen nur mit Rechnungsadresse in A, B, BG, CY, CZ, D, DK, EW, E, FIN, F, GR, HR, H, IRL, I, LT, L, LR, M, NL, PL, P, R, S, SLO, SK ausgeliefert werden.