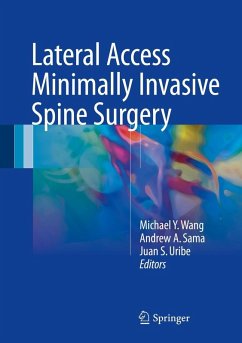 Andere Kunden interessierten sich
auch
für
---
Dieser Download kann aus rechtlichen Gründen nur mit Rechnungsadresse in A, B, BG, CY, CZ, D, DK, EW, E, FIN, F, GR, HR, H, IRL, I, LT, L, LR, M, NL, PL, P, R, S, SLO, SK ausgeliefert werden.
Produktdetails
Verlag: Springer-Verlag GmbH
Seitenzahl: 362
Erscheinungstermin: 26. November 2016
Englisch
ISBN-13: 9783319283203
Artikelnr.: 53035491
Introduction: History and rationale for the minimally invasive lateral approach.- Biomechanics of lateral spinal reconstruction.- Physiologic benefits and the impact on the patient.- Costs and economic implications.- Workup and diagnostic injections.- Implants and lateral cages. Approach and localization : Patient selection.- Positioning and safety.- Intraoperative electrophysiologic monitoring.- Motor based monitoring.- Flouroscopic techniques.- Frameless navigation.- Techniques for avoiding psoas muscle and lumbosacral plexus injury. Soft tissue management : Single vs. dual incisions.- Retractor technology.- Transpsoas vs. Anterior To Psoas (ATP).- Thoracic MIS retro pleural access.- Psoas muscle management. Pathologies : Degenerative disc disease.- Spondylolisthesis.- Scoliosis.- Sagittal deformities.- Neoplasia.- Trauma.- Infection.- Adjacent level disease & Proximal junctional kyphosis.- Technical Nuances : Lateral fixation.- Posterior fixation options.- ALL sectioning.- Surgery at the L5-S1 level.- Osteobiologics. Managing and preventing complications : Vascular.- Hollow viscus.- Hernia.- Pseudarthrosis. Controversies : Selective apical fusions.- Short segment vs. Long segment fusions.- Approaching a deformity from the concavity vs. convexity.