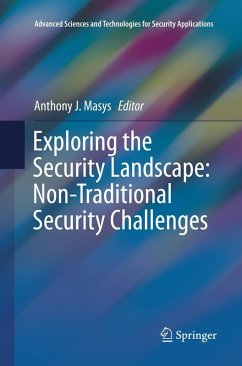 Produktdetails
Advanced Sciences and Technologies for Security Applications
Verlag: Springer / Springer, Berlin
Artikelnr. des Verlages: 978-3-319-80240-4
Softcover reprint of the original 1st ed. 2016
Seitenzahl: 332
Erscheinungstermin: 30. März 2018
Englisch
Abmessung: 235mm x 155mm x 17mm
Gewicht: 510g
ISBN-13: 9783319802404
ISBN-10: 3319802402
Artikelnr.: 53581641
Non-traditional Transnational Security Challenges in Serbian, British and Dutch Security Discourses: A Cross Country Comparison; J. Milos et al.- National Security in a Hyper-Connected World; C.O. Fjäder.- Is Maritime Security a Traditional Security Challenge; I. Chapsos.- Pandemic Influenza Planning for the Mental Health Security of Survivors of Mass Deaths; M . -J . Medina.- An evaluation of the Police Response to Gang-related Violence and Future Security Threat; P. Canfield.- The Demographic horizon of the emerging security environment; C. Leuprecht.- Economic Security: An emerging security issue; T. Valdron.- Critical Infrastructure vulnerabilities: embracing a network mindset; T. Xu, A.J. Masys.-Supply Chain Information Security: emerging challenges in the telecommunications industry; T. Xu, S. Nassar.-Disrupting terrorist and criminal networks: Crime script analysis through DODAF applications; A.J. Masys.- Beyond the Castle Model of Cyber-risk and cyber-security; D. Skillcorn, C. Leuprecht.- Food Security as Critical Infrastructure: the importance of safeguarding the food supply for civil security; A. Brinkmann, K. Bauer; The role of Social Network Sites in security risks and crises: The information warfare of terrorism; K. Wewa-Wekesa.- Manufactured Risk, complexity and non-traditional security: from world risk society to a networked risk model; A. J. Masys.
"Approximately 20 international authors contribute 15 chapters to aspects of the contemporary transnational security landscape. Collectively they provide a big-picture snapshot of contemporary research and concerns. Advanced students, scholars, and practitioners will want to review these studies. ... Individuals whose work involves forward thinking about evolving security challenges will want to review this thinking." (Brad Reid, Computing Reviews, computingreviews.com, July, 2016)