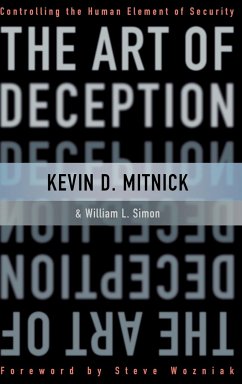 Andere Kunden interessierten sich
auch
für
Produktdetails
Verlag: Wiley & Sons
Seitenzahl: 372
Erscheinungstermin: 27. September 2002
Englisch
Abmessung: 235mm x 157mm x 26mm
Gewicht: 623g
ISBN-13: 9780471237129
ISBN-10: 0471237124
Artikelnr.: 10974224
Foreword.
Preface.
Introduction.
Part 1: Behind the Scenes.
Chapter 1: Security's Weakest Link.
Part 2: The Art of the Attacker.
Chapter 2: When Innocuous Information Isn't.
Chapter 3: The Direct Attack: Just Asking for It.
Chapter 4: Building Trust.
Chapter 5: "Let Me Help You".
Chapter 6: "Can You Help Me?".
Chapter 7: Phony Sites and Dangerous Attachments.
Chapter 8: Using Sympathy, Guilt, and Intimidation.
Chapter 9: The Reverse Sting.
Part 3: Intruder Alert.
Chapter 10: Entering the Premises.
Chapter 11: Combining Technology and Social Engineering.
Chapter 12: Attacks on the Entry-Level Employee.
Chapter 13: Clever Cons.
Chapter 14: Industrial Espionage.
Part 4: Raising the Bar.
Chapter 15: Information Security Awareness and Training.
Chapter 16: Recommended Corporate Information Security Policies.
Security at a Glance.
Sources.
Acknowledgements.
Index.
"...an interesting read..." (www.infosecnews.com, 17 July 2002) "...highly entertaining...will appeal to a broad audience..." (Publishing News, 26 July 2002) "required reading for IT professionals, [and] is highly recommended for public, academic, and corporate libraries." (Library Journal, August 2002) "This is Mitnick's account, complete with advice for how to protect yourself from similar attacks. I believe his story." (Wired, October 2002) "does deliver on 'social engineering' exercises." And "[o]ne way or another, you'll find the information useful." (Red Herring, October 2002) "Mitnick outlines dozens of social engineering scenarios in his book, dissecting the ways attackers can easily exploit what he describes as 'that natural human desire to help others and be a good team player.'" (Wired.com, October 3, 2002) "Most of the book, coauthored by William Simon ..., is a series of fictional episodes depicting the many breathtakingly clever ways that hackers can dupe trusting souls into breaching corporate and personal security - information as simple as an unlisted phone number or as complicated as plans for a top-secret product under development." (Forbes, October 14, 2002) "...the book describes how people can get sensitive information without even stepping near a computer through 'social engineering' -- the use of manipulation or persuasion to deceive people by convincing them that you are someone else." (CNN.com's Technology section, October 9, 2002) "...engaging
style...fascinating true stories..." (The CBL Source, October/December 2002) "...the book describes how people can get information without even stepping near a computer..." (CNN, 16 October 2002) "...each vignette reads like a mini-cybermystery thriller...I willingly recommend The Art of Deception. It could save you from embarrassment or an even worse fate..." (zdnet.co.uk, 15 October 2002) "...details the ways that employees can inadvertently leak information that can be exploited by hackers to compromise computer systems...the book is scary in ways that computer security texts usually do not manage to be..." (BBC online, 14 October 2002) "...more educational than tell-all..." (Forbes, 2 October 2002) "...would put a shiver into anyone responsible for looking after valuable computer data...the exploits are fictional but realistic...the book is about hacking peoples heads..." (The Independent, 21 October 2002) "...the key strength of The Art of Deception is the stream of anecdotes - with explanations about how and why hacks succeed...provides a solid basis for staff training on security..." (Information Age, October 2002) "...should be on the list of required reading. Mitnick has done an effective job of showing exactly what the greatest threat of attack is - people and their human nature..." (Unix Review, 18 October 2002)
"Mitnick is the most famous computer hacker in the world. Since his first arrest in 1981, at age 17, he has spent nearly half his adult life either in prison or as a fugitive. He has been the subject of three books and his alleged 1982 hack into NORAD inspired the movie WarGames. Since his plea-bargain release in 2000, he says he has reformed and is devoting his talents to helping computer security. It's not clear whether this book is a means toward that end or a, wink-wink, fictionalized account of his exploits, with his name changed to protect his parole terms. Either way, it's a tour de force, a series of tales of how some old-fashioned blarney and high-tech skills can pry any information from anyone. As entertainment, it's like reading the climaxes of a dozen complex thrillers, one after the other. As a security education, it's a great series of cautionary tales; however, the advice to employees not to give anyone their passwords is bland compared to the depth and energy of Mitnick's description of how he actually hacked into systems. As a manual for a would-be hacker, it's dated and nonspecific -- better stuff is available on the Internet--but it teaches the timeless spirit of the hack. Between the lines, a portrait emerges of the old-fashioned hacker stereotype: a socially challenged, obsessive loser addicted to an intoxication sense of power that comes from stalking and spying. (Oct.)

Forecast: Mitnick's notoriety and his well written, entertaining stories should generate positive word-of-mouth. With the double appeal of a true-crime memoir and a manual for computer security, this book will enjoy good sales." (Publishers Weekly, June 24, 2002)

"...an interesting read..." (www.infosecnews.com, 17 July 2002)

"...highly entertaining...will appeal to a broad audience..." (Publishing News, 26 July 2002)

"The world's most famous computer hacker and cybercult hero, once the subject of a massive FBI manhunt for computer fraud, has written a blueprint for system security based on his own experiences. Mitnick, who was released from federal prison in 1998 after serving a 22-month term, explains that unauthorized intrusion into computer networks is not limited to exploiting security holes in hardware and software. He focuses instead on a common hacker technique known as social engineering in which a cybercriminal deceives an individual into providing key information rather than trying to use technology to reveal it. Mitnick illustrates the tactics comprising this "art of deception" through actual case studies, showing that even state-of-the-art security software can't protect businesses from the dangers of human error. With Mitnick's recommended security policies, readers gain the information their organizations need to detect and ward off the threat of social engineering. Required reading for IT professionals, this book is highly recommended for public, academic, and corporate libraries. [This should not be confused with Ridley Pearson's new thriller, The Art of Deception." --Ed]--Joe Accardi, William Rainey Harper Coll. Lib., Palatine, IL (Library Journal, August 2002)

"He was the FBI's most-wanted hacker. But in his own eyes, Mitnick was simply a small-time con artist with an incredible memory, a knack for social engineering, and an enemy at The New York Times. That foe, John Markoff, made big bucks selling two books about Mitnick - without ever interviewing him. This is Mitnick's account, complete with advice for how to protect yourself from similar attacks. I believe his story." (WIRED Magazine, October 2002)

"Mitnick outlines dozens of social engineering scenarios in his book, dissecting the ways attackers can easily exploit what he describes as 'that natural human desire to help others and be a good team player.'" (Wired.com, October 3, 2002)

"...Mitnick remains what can best be called a colourful character... The Art of Deception is an entertaining read - and more than a little scary..." (Financial Times vom 16.12.2002)