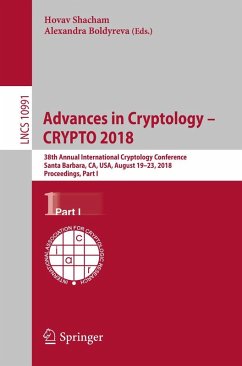 Produktdetails
Lecture Notes in Computer Science .10991
Artikelnr. des Verlages: .978-3-319-96883-4, 978-3-319-96883-4
1st ed. 2018
Erscheinungstermin: August 2018
Englisch
Abmessung: 236mm x 156mm x 48mm
Gewicht: 1258g
ISBN-13: 9783319968834
ISBN-10: 3319968831
Artikelnr.: 52985801
Secure messaging.- Implementations and physical attacks prevention.- Authenticated and format-preserving encryption.- Cryptoanalysis.- Searchable encryption and differential privacy.- Secret sharing.- Encryption.- Symmetric cryptography.- Proofs of work and proofs of Stake.- Proof tools.- Key exchange.- Symmetric cryptoanalysis.- Hashes and random oracles.- Trapdoor functions.- Round optimal MPC.- Foundations.- Lattices.- Lattice-based ZK.- Efficient MPC.- Quantum cryptography.- MPC.- Garbling.- Information-theoretic MPC.- Oblivious transfer.- Non-malleable codes.- Zero knowledge.- Obfuscation.