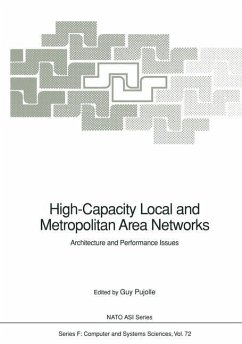 Produktdetails
NATO ASI Series F: Computer and Systems Sciences .72
Verlag: Springer, Berlin
Softcover reprint of the original 1st ed. 1991
Seitenzahl: 556
Erscheinungstermin: 23. Dezember 2011
Englisch
Abmessung: 242mm x 170mm x 29mm
Gewicht: 940g
ISBN-13: 9783642764868
ISBN-10: 364276486X
Artikelnr.: 36117627
Architecture of High-Speed LANs and MANs.- Network Management and Control in Broadband Telecommunication Networks:Research Issues and Some Partial Solutions.- The Medium Access Control.- Wide Area Connectionless IEEE 802.6 MAN Services.- New Access Schemes for Gbit/s LANs and MANs.- Cell Switching and Access Schemes for HS-LANs and HS-MANs.- First Experiences in High-Speed LANs.- High-Speed Local Area Networks - What, Why, When and How: Planning, Installation and First Experiences of a HSLAN in a Heterogeneous Environment.- ONERA Gbit/s LAN: First Experiment and Use.- LION and MAX, the experiences of two Esprit Projects on High-Speed MANs.- Metropolitan Area Networks.- Fault Tolerance and Circuit Service in Deflection Networks.- A Linear Lightwave MAN Architecture.- Routing in Large Metropolitan Area Networks Based on Wavelength-Division Multiplexing Technology.- Impact of High Performance and Integrity Requirements on Metropolitan Area Network's Architecture and Technology.- DQDB.- Problems Arising from Deflection Routing: Live-lock, Lockout, Congestion and Message Reassembly.- Towards Formal Structures for IEEE 802.6.- Modelling of the DQDB Access Protocol and Closed-Form Approximation.- Approximate Performance Model and Fairness Condition of the DQDB Protocol.- An analytical Model for the High-Speed Protocol DQDB.- Frame Delay Analysis of the DQDB Protocol.- Performance of ATM Techniques.- Fast Packet Switch Architectures and the Tandem Banyan Switching Fabric.- An Approximation Analysis of a Shared Buffer ATM Switch Architecture under Bursty Arrivals.- Some Results on Traffic Control and Resource Allocation in ATM Networks.- New Trends in High-Speed Communications.- Reliable Broadcast and Agreement with Unreliable Asynchronous High-Speed LANs and MANs.- Reliable Multicasting in High-Speed LANs.- Management Considerations in Moving from a 10 Mbit LAN to a 100 Mbit LAN.- Performance Issues.- On Overload Control of High-Speed Switching Nodes.- Proposal-Petition Protocol: Models for Performance Evaluation.- Gateways.- Design, Implementation and Performance Analysis of an ETHERNET to LION Gateway.- Design and Analysis of Flow Control Protocols for Metropolitan Area Networks.- Control in High-Speed Networks.- Analysis of an Asymmetric Polling Model with Cycle-time Constraint.- Waiting Times in Token Rings with Helical Window and Window-Gated Service.- Priorities in ATM Networks.