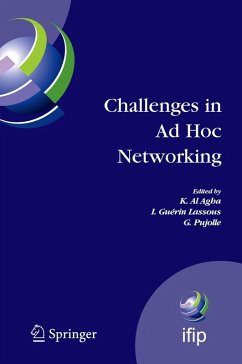 Andere Kunden interessierten sich
auch
für

The IFIP series publishes state-of-the-art results in the sciences and technologies of information and communication. The scope of the series includes: foundations of computer science; software theory and practice; education; computer applications in technology; communication systems; systems modeling and optimization; information systems; computers and society; computer systems technology; security and protection in information processing systems; artificial intelligence; and human-computer interaction. Proceedings and post-proceedings of referred international conferences in computer science and interdisciplinary fields are featured. These results often precede journal publication and represent the most current research. The principal aim of the IFIP series is to encourage education and the dissemination and exchange of information about all aspects of computing.
For more information about the 300 other books in the IFIP series, please visit www.springeronline.com.
For more information about IFIP, please visit www.ifip.org.
Produktdetails
IFIP Advances in Information and Communication Technology 197
Softcover reprint of hardcover 1st ed. 2006
Seitenzahl: 428
Erscheinungstermin: 11. Februar 2011
Englisch
Abmessung: 229mm x 152mm x 22mm
Gewicht: 644g
ISBN-13: 9781441940582
ISBN-10: 1441940588
Artikelnr.: 32135562
Wireless Transmissions with Combined Gain Relays over Fading Channels.- Adaptive Probabilistic NAV to Increase Fairness in Ad HOC 802.11 MAC Layer.- A Link Layer Protocol for Self-Organizing Ultra Wide Band Impulse Radio Networks.- Power Control and Clustering in Wireless Sensor Networks.- Protecting Transmissions when Using Power Control on 802.11 Ad Hoc Networks.- A Power-Saving Algorithm and a Power-Aware Routing Scheme for IEEE 802.11 Ad Hoc Networks.- Optimized Flooding and Interference-Aware QoS Routing in OLSR.- OLSR and MPR: Mutual Dependences and Performances.- OLSR Improvement for Distributed Traffic Applications.- Multilevel Network Modeling to Achieve Cross Layer Mechanisms.- Bandwidth Measurement in Wireless Networks.- Performance Evaluation Study of an Available Bandwidth Measurement Technique in Multi-Hop Wireless Ad Hoc Networks.- Unified Support for Quality of Service Metrics Management in Mobile Ad Hoc Networks Using OLSR.- A Framework for Routing in Large Ad-Hoc Networks with Irregular Topologies.- Routing in Extremely Mobile Networks.- Morhe: A Transparent Multi-Level Routing Scheme for Ad Hoc Networks.- Virtual Trellis Routing.- Connectivity Properties of Random Waypoint Mobility Model for Ad Hoc Networks.- On Improving Connectivity of Static Ad-Hoc Networks by Adding Nodes.- The Critical Neighbourhood Range for Asymptotic Overlay Connectivity in Dense Ad Hoc Networks.- Design of a Flexible Cross-Layer Interface for Ad Hoc Networks.- Emulation Architecture for Ad Hoc Networks.- Wireless Local Area Networks and Mobile Devices to Actualize the Notion of Ubiquitous Computing in Living Classrooms.- Throughput Analysis of an Aloha-Based MAC Policy for Ad Hoc Networks.- Performance Evaluation of Broadcasting Protocols for Ad Hoc and Sensor Networks.- Mobility-Aware Adaptive Counter-Based Forwarding Elimination to Reduce Data Overhead in Multicast Ad Hoc Routing.- Supporting Multicast in Ad-Hoc Networks in a Hotspot Context.- A Lightweight Clustering Algorithm Utilizing Capacity Heterogeneity.- OLSR Trees: A Simple Clustering Mechanism for OLSR.- Asynchrnous Architecture for Sensor Network Nodes.- Evaluating Fault Tolerance Aspects in Routing Protocols for Wireless Sensor Networks.- Service Discovery Protocol in Proactive Mobile Ad Hoc Networks.- Autonomous Reconfiguration by Innovation of Diffusions.- Prefix Continuity and Global Address Autoconfiguration in IPV6 Ad Hoc Networks.- Adaptive Real-Time VBR Video Traffic Predictor for IEEE 802.15.3 Wireless Ad Hoc Networks.- An Efficient Proactive RSA Scheme for Large-Scale Ad Hoc Networks.- Hybrid Key Management for Mobile Ad Hoc Networks.- Design and Optimization of Reputation Mechanisms for Centralized Clustered Ad Hoc Networks.- "Direction" Forwarding for Highly Mobile, Large Scale Ad Hoc Networks.- Extending the Coverage of a 4G Telecom Network Using Hybrid AD-HOC Networks: A Case Study.- Integration of Mobile-IPV6 and Olsr for Inter-Monet Communications.- Analysis of the Multi-Point Relay Selection in Olsr and Implications.- Selection Metrics for Cooperative Multihop Relaying.- Service Differentiation Mechanism Via Cooperative Medium Access Control Protocol.