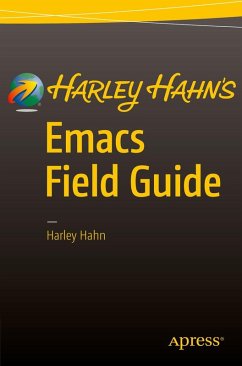 Produktdetails
Verlag: Springer, Berlin; Apress
Artikelnr. des Verlages: 978-1-4842-1702-3
1st ed.
Erscheinungstermin: September 2016
Englisch
Abmessung: 238mm x 154mm x 22mm
Gewicht: 481g
ISBN-13: 9781484217023
ISBN-10: 1484217020
Artikelnr.: 43937039
1. All About Emacs.- 2. Unix for Emacs Users.- 3. Installing Emacs.- 4. The Emacs Keyboard.- 5. Starting and Stopping Emacs.- 6. Commands, Buffers, Windows.- 7. The Text Editing Work Environment.- 8. The Cursor; Line Numbers; Point and Mark; The Region.- 9. Kill and Delete; Move and Copy; Correct Mistakes; Spelling; Fill.- 10. Search.- Appendix A. Personal Notes.- Appendix B. Command Summaries.