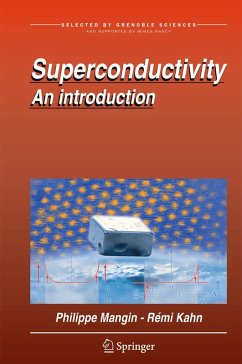 Produktdetails
Artikelnr. des Verlages: .978-3-319-50525-1
1st ed. 2017
Erscheinungstermin: 29. Januar 2017
Englisch
Abmessung: 241mm x 161mm x 30mm
Gewicht: 752g
ISBN-13: 9783319505251
ISBN-10: 3319505254
Artikelnr.: 46982490
Introduction.- 2. LONDON theory.- 3. The non-local PIPPARD equations.- 4. Thermodynamics of type I superconductors.- 5. The intermediate state of type I superconductors.- 6. Type II superconductors.- 7. Fields and currents in type II superconductors - Models of the critical state.- 8. COOPER pairs -Principal results of BCS theory.- 9. Coherence and the flux quantum.- 10. The JOSEPHSON effect.- 11. Superconducting Quantum Interference Device "SQUID".- 12. JOSEPHSON junctions in a magnetic field.
"In Mangin and Kahn's 'Superconductivity' there is an overview of the scientist who are/were involved in the discoveries connected to superconductivity. ... In 'Superconductivity' you can also read about how SQUID magnetometers work, that enable scientists to measure very small magnetic fields. The book is a well-rounded, complete and student friendly guide to superconductivity. It assumes that the reader is well acquainted with at least undergraduate physics." (AstroMadness.com, December, 2017)
"The rich contents of the major topics of superconductors are very well organized into a small volume, and are presented nicely and concisely. The physical theories are clearly explained, with the mathematical details given as appendices of each chapter, so that the reader will not get lost in the technical details. ... this book is interesting both to students and researchers in physics and mathematics who wish to know the global picture and beauty of the theory of superconductivity." (Xingbin Pan, zbMATH 1372.82002, 2017)


"In Mangin and Kahn's 'Superconductivity' there is an overview of the scientist who are/were involved in the discoveries connected to superconductivity. … In 'Superconductivity' you can also read about how SQUID magnetometers work, that enable scientists to measure very small magnetic fields. The book is a well-rounded, complete and student friendly guide to superconductivity. It assumes that the reader is well acquainted with at least undergraduate physics." (AstroMadness.com, December, 2017)


"The rich contents of the major topics of superconductors are very well organized into a small volume, and are presented nicely and concisely. The physical theories are clearly explained, with the mathematical details given as appendices of each chapter, so that the reader will not get lost in the technical details. … this book is interesting both to students and researchers in physics and mathematics who wish to know the global picture and beauty of the theory of superconductivity." (Xingbin Pan, zbMATH 1372.82002, 2017)