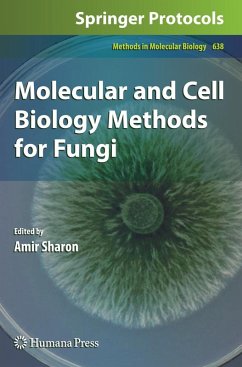 Andere Kunden interessierten sich
auch
für
Molecular and Cell Biology Methods for Fungi, experts in the field provide an up-to-date set of practical protocols covering a range of frequently used methods used to study molecular and cellular aspects of fungal biology. The included classical protocols such as transformation systems and traditional protein analysis methods, which have been widely used for many years, alongside the most advanced techniques such as genome amplification, whole genome knockout methods, and sophisticated in vivo imaging techniques will prove to be easily adaptable and useful in a wide range of species. Written in the highly successful Methods in Molecular Biology(TM) series format, chapters include introductions to their respective topics, lists of the necessary materials and reagents, step-by-step, readily reproducible laboratory protocols, and notes on troubleshooting and avoiding known pitfalls.

Comprehensive and up-to-date, Molecular and Cell Biology Methods for Fungi seeks to provide cutting-edge techniques in order to aid both experienced fungal research laboratories as well as those that are interested in using fungi as hosts to study their favorite genes.
---
The kingdom Fungi constitutes an independent group equal in rank to that of plants and animals. It is a diverse clade of heterotrophic eukaryotic organisms that shares some ch- acteristics with animals and includes mushrooms, molds, yeasts as well as many other types of less well known organisms. Approximately 100,000 species have been described, which comprise less than 10% of the estimated number of fungal species in nature. Fungi can be found in every place wherever adequate moisture, temperature, and organic substrates are available; however, they also occupy extreme habitats, from hot volcanoes to arctic zones, arid deserts, and deep oceans. The importance of fungi as a group is tremendous; most species are saprobes and play prime roles in decomposition and the recycling of organic matter and nutrients, and many of them produce enzymes and metabolites with important applications in pharmacology, biotechnology, and other industries. Alongside the positive aspects, fungi also cause huge damage, primarily as plant pathogens. Fungi are highly amenable to molecular work, and a few fungal species serve as model systems to study basic processes with results that are applicable to many organisms, including humans.
Produktdetails
Methods in Molecular Biology Vol.638
Verlag: Springer, Berlin
Artikelnr. des Verlages: 12209897
Erscheinungstermin: April 2010
Englisch
Abmessung: 260mm x 183mm x 25mm
Gewicht: 902g
ISBN-13: 9781607616108
ISBN-10: 1607616106
Artikelnr.: 27813352
Part I: Fungal Transformation and Gene Knockout 1. Protoplast Transformation of Filamentous Fungi Gillian B. Turgeon, Bradford Condon, Jinyuan Liu, and Ning Zhang 2. Electroporation and Agrobacterium-Mediated Spore Transformation Anna Minz and Amir Sharon 3. High-Throughput Construction of Gene Deletion Cassettes for Generation of Neurospora crassa Knockout Strains Patrick D. Collopy, Hildur V. Colot, Gyungsoon Park, Carol Ringelberg, Christopher M. Crew, Katherine A. Borkovich, and Jay C. Dunlap 4. Development of Impala-Based Transposon Systems for Gene Tagging in Filamentous Fungi Marie Dufresne and Marie-Josée Daboussi 5. DelsGate: A Robust and Rapid Method for Gene Deletion María D. García-Pedrajas, Marina Nadal, Timothy Denny, Lourdes Baeza-Montañez, Zahi Paz, and Scott E. Gold 6. Gene Silencing for Functional Analysis: Assessing RNAi as a Tool for Manipulation of Gene Expression Carmit Ziv and Oded Yarden Part II: Detection and Quantification of Fungi 7. Analysis of Fungal Gene Expression by Real Time Quantitative PCR Shahar Ish-Shalom and Amnon Lichter 8. Identification of Differentially Expressed Fungal Genes in planta by Suppression Subtraction Hybridization (SSH) Benjamin A. Horwitz and Sophie Lev 9. Quantification of Fungal Infection of Leaves with Digital Images and Scion Image Software Paul H. Goodwin and Tom Hsiang 10. Expression Profiling of Fungal Genes During Arbuscular Mycorrhiza Symbiosis Establishment Using Direct Fluorescent In situ RT-PCR Pascale M. A. Seddas-Dozolme, Christine Arnould, Marie Tollot, Elena Kuznetsova, and Vivienne Gianinazzi-Pearson11. Application of Laser Microdissection to Study Plant-Fungal PathogenInteractions John Fosu-Nyarko, Michael G.K. Jones, and Zhaohui Wang 12. Multiplex Gene Expression Analysis by TRAC in Fungal Cultures Jari J. Rautio 13. Amplification of Fungal Genomes Using Multiple Displacement Amplification Simon J. Foster and Brendon J. Monahan Part III: Microscopy and Protein Analysis 14. Biochemical Methods Used to Study the Gene Expression and Protein Complexes in the Filamentous Fungus Neurospora crassa Jinhu Guo, Guocun Huang, Joonseok Cha, and Yi Liu 15. Measuring Protein Kinase and Sugar Kinase Activity in Plant Pathogenic Fusarium Species Burton H. Bluhm and Xinhua Zhao 16. A Detailed Protocol for Chromatin Immunoprecipitation (ChIP) in the Yeast Saccharomyces cerevisiae Melanie Grably and David Engelberg 17. A Method to Visualize the Actin and Microtubule Cytoskeleton by Indirect Immunofluorescence Flora Banuett 18. Fluorescence in situ Hybridization for Molecular Cytogenetic Analysis in Filamentous Fungi Dai Tsuchiya and Masatoki Taga 19. Live-Cell Imaging of Microtubule Dynamics in Hyphae of Neurospora crassa Maho Uchida, Rosa R. Mouriño-Pérez, and Robert W. Roberson 20. Methods to Detect Apoptotic-Like Cell Death in Filamentous Fungi Camile P. Semighini and Steven D. Harris 21. Evaluation of Antifungal Susceptibility Using Flow Cytometry Cidália Pina-Vaz and Acácio Gonçalves Rodrigues 22. Preparation of Fungi for Ultrastuctural Investigations and Immunogoldlabelling Gerd Hause and Simone Jahn 23. Split-EGFP Screens for the Detection and Localization of Protein-Protein Interactions in Living Yeast Cells Emma Barnard and David J. Timson
From the reviews:
"This volume of methods and step-by-step protocols for fungal molecular biology deals with three areas: (i) fungal transformation and gene knockout; (ii) detection and quantitation of fungi; and (iii) microscopy and protein analysis. The authors of the chapters are world leaders in their respective fields and the book ... still a valuable laboratory resource. ... this is a good place for a freshman fungal lab worker to start - and it also provides a useful list of contacts who no doubt could field further questions." (Neil A. R. Gow, Microbiology Today, 2010)