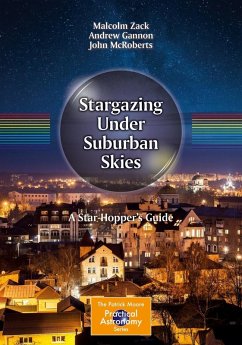 Andere Kunden interessierten sich
auch
für
Anyone interested in astronomy battles with the conveniences of modern living - street lights, advertising and security lighting, tall buildings, and even the occasional tree. More than 85% of the population now lives in crowded and light-polluted towns and cities.
This book is for those who live in or near towns and cities and own relatively modest equipment, although observers with larger instruments will still find many of the target objects of interest. The book encourages the use of star-hopping techniques to find objects in the night sky.
Included is a list of 100 popular deep sky objects, ranked according to how difficult they are to find. Each object is described and has companion star-hopping charts, images and sometimes sketches. As a result, readers can gain a sense of their own backyard view from Earth. There is also a top 30 list of lunar objects, a section on planetary observing, annotated lists of popular astronomy apps and software, and tips on how to make the most of your location.
Stargazing Under Suburban Skies: A Star-Hopper's Guide is the essential companion to what can be seen and how, regardless of the obstacles.
---
Dieser Download kann aus rechtlichen Gründen nur mit Rechnungsadresse in A, B, BG, CY, CZ, D, DK, EW, E, FIN, F, GB, GR, HR, H, IRL, I, LT, L, LR, M, NL, PL, P, R, S, SLO, SK ausgeliefert werden.
Produktdetails
Verlag: Springer-Verlag GmbH
Erscheinungstermin: 20.08.2018
Englisch
ISBN-13: 9783319901169
Artikelnr.: 53622200
Foreword.- Dedications.- About the Authors.- Acknowledgements.- Chapter 1: Seeking Out the Dark.- Chapter 2: Observing in Suburban Skies.- Chapter 3: Equipment for Suburban Skies.- Chapter 4: Observing the Deep Sky.- Chapter 5: Observing the Moon.- Chapter 6: Observing the Planets.- Chapter 7: Software and Apps to Help the Suburban Astronomer.- Chapter 8: Other Astronomical Phenomena.- Appendix A: Instruments and Methods Used for Images.- Appendix B: Deep Sky Objects: Listed 1-100.- Appendix C: Deep Sky Objects: Listed by Bronze, Silver and Gold.- Appendix D: General Sky Reference Charts Appendix E: Lunar Features: Listed 1-30.- Appendix F: Full Disc Lunar Reference Charts.- Bibliography and References.- Index.
"The book has several illustrations, including many in color. Readers will discover that computing plays a major role in modern astronomy. It is a very valuable read for both novice and expert astronomers." (S. V. Nagaraj, Computing Reviews, October 29, 2019)
"Amateur astronomers living near London compiled a list of 100 astronomical objects that can be observed in their lessthan- ideal sky conditions with modest equipment (binoculars and small telescopes). ... Handy appendixes and software recommendations and excellent images enhance the value for the general reader. Summing Up: Recommended. General readers." (M.-K. Hemenway, Choice, Vol. 56 (7), March, 2019)