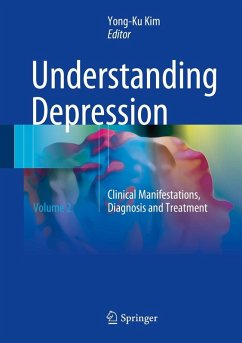 Andere Kunden interessierten sich
auch
für
---
Dieser Download kann aus rechtlichen Gründen nur mit Rechnungsadresse in A, B, BG, CY, CZ, D, DK, EW, E, FIN, F, GB, GR, HR, H, IRL, I, LT, L, LR, M, NL, PL, P, R, S, SLO, SK ausgeliefert werden.
Produktdetails
Verlag: Springer-Verlag GmbH
Erscheinungstermin: 02.01.2018
Englisch
ISBN-13: 9789811065774
Artikelnr.: 52540404
1.Diagnostic issues of depression.- 1-1.Major depression and bipolar depression: similarity, difference and contemporary treatment approach.- 1-2.Biomarkers of depression-potential diagnostic tools.- 1-3.Diagnosis of depression: from clinical classification to biological classification.- 1-4.Application of neuroimaging in the diagnosis and treatment in depression.- 2.Clinical manifestations of depression.- 2-1.Anhedonia as a crucial factor of depression; assessment, neurobiological underpinning and treatment.- 2-2.Sleep and sleep disorders in depression.- 2-3.Chronobiology and treatment in depression.- 2-4.Suicide in depression: risk factors, neurobiology and treatment.- 2-5.Cognitive dimension of depression; assessment, neurobiology and treatment.- 2-6.Risk factors and prevention strategy of depression in childhood and adolescence.- 2-7.Neurobiology and risk factors in late life depression.- 3.Complicated clinical manifestations of depression.- 3-1.Overlapping chronic pain and depression: pathophysiology and management.- 3-2.Clinical, biological and therapeutic characteristics between depression with and without medical illness.- 3-3.Biological mechanism underlying the link Depression and cardiovascular disease.- 3-4.Bunout syndrome and depression.- 3-5.The link between obesity and depression: exploring shared mechanisms.- 3-6.Biomarkers, detection and therapeutic approaches for antenatal and postnatal depression.- 4.Therapeutic issues of depression.- 4-1.Ketamine: a promising rapid-acting antidepressant in depression.- 4-2.Antidepressant therapy for depression: An update.- 4-3.The use of atypical antipsychotics in treatment of depression: efficacy and safety.- 4-4.Neurobiology and therapeutic approach in treatment-resistant depression (TRD).- 4-5.Clinical application of neurostimulation in depression.- 4-6.Combination therapy of pharmacotherapy and psychotherapy in depression: Is it really superior to either treatment alone?.- 4-7.Mindfulness-based cognitive therapy for depression: preference to internet-based mental health and psychotherapy approaches in mood disorders.- 4-8.Current research on complementary and alternative medicine (CAM) in the treatments of depression: evidence based review.