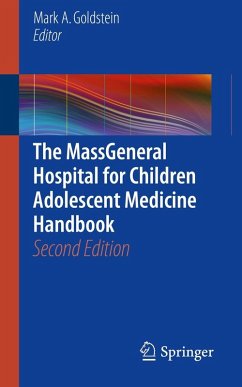 The second edition of this definitive guide for clinical care of adolescents builds upon the practical knowledge and guidance of the first edition, and expands into new subjects of adolescent care. The handbook is divided into three sections: general adolescent medicine, sexuality, and mental health, and contains relevant, practical knowledge, covering those areas most often seen in the practice of adolescent medicine.

The MassGeneral Hospital for Children Adolescent Medicine Handbook, 2nd edition details best practices in regards to diagnostic evaluations and clinical care, but also instructs practitioners on the best methods to connect, communicate, and continue that care with adolescents, in order to provide optimal treatment, and instill healthy lifetime behaviors. Each chapter is written by clinicians who have been trained at, or are members of the staff of Massachusetts General Hospital, and this edition has nearly doubled the amount of skilled physician authors. While this title has been revised and updated, entirely new chapters devoted to hypertension, immunizations, breast disorders, HIV, and resilience have also been added, reflecting new and changing contributions to the field of adolescent medicine. This second edition brings together the practical, hands-on knowledge of the first edition, along with new information and additional subject areas to create a balanced, multi-specialty method to treating and engaging adolescent patients.


---
Dieser Download kann aus rechtlichen Gründen nur mit Rechnungsadresse in A, B, BG, CY, CZ, D, DK, EW, E, FIN, F, GB, GR, HR, H, IRL, I, LT, L, LR, M, NL, PL, P, R, S, SLO, SK ausgeliefert werden.
Produktdetails
Verlag: Springer-Verlag GmbH
Erscheinungstermin: 01.12.2016
Englisch
ISBN-13: 9783319457789
Artikelnr.: 53033893
Preface Acknowledgements
PART 1. GENERAL ADOLESCENT MEDICINE
1. Adolescent Preventive Services 2. The Adolescent Patient Interview: Adolescent Confidentiality and Consent 3. Pubertal Development 4. Normal Adolescent Development 5. Male Genitourinary Exam 6. The Pelvic Examination and Pap Smear in Adolescents and Young Adults 7. Adolescent Dermatology 8. Obesity 9. Nutrition: Healthy Eating in Adolescence; Nutritional Supplements: Performance-Enhancing Drugs, and Dietary Supplements; Irritable Bowel Syndrome; and Inflammatory Bowel Syndrome 10. Sports Injuries in the Adolescent 11. Cardiac Issues in Adolescence 12. Hypertension in Adolescents 13. Immunizations
PART 2. SEXUALITY, GYNECOLOGY, AND ABNORMAL GROWTH AND DEVELOPMENT 14. Amenorrhea 15. Abnormal Vaginal Bleeding 16. Basics of Hormonal Contraception 17. Adolescent Pregnancy 18. Polycystic Ovary Syndrome 19. Breast Disorders in Adolescence 20. Sexually Transmitted Infections (STI) in Adolescents 21. HIV in Adolescents 22. Delayed Puberty, Short Stature, and Tall Stature
PART 3. MENTAL HEALTH AND TRANSITION OF CARE
23. Adolescent Substance Use and Prevention 24. Adolescent Mental Health Disorders 25. Eating Disorders 26. Adolescent Relationship Abuse in Clinical Settings: Opportunities for Prevention and Intervention 27. Bullying and Cyber Bullying 28. Nature, Nurture, Adolescents and Resilience 29. Transition of Care
APPENDIX
"In 29 chapters and 3 parts the authors, members of the staff of Mass General Hospital (MGH) or its trainees, review the physical and mental health issues in adolescence including sexuality. ... There are many tables and illustrations, some in color. Clearly written. To pediatric interns, residents and practitioners. Highly recommended." (Pediatric Endocrinology Reviews (PER), Vol. 14 (4), June, 2017) "The purpose is to provide primary care providers in all medical and surgical specialties who may care for adolescents with an overview of the basic, most frequent topics encountered in adolescent medicine. ... The author has done a great job in meeting these objectives and this is a needed handbook for primary care providers. ... This is an excellent resource for busy primary care providers who need a broad overview of the most commonly encountered adolescent medicine topics." (Rachel Dawson, Doody's Book Reviews, June, 2017)