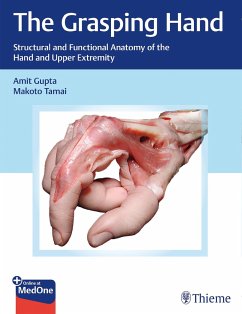 Andere Kunden interessierten sich
auch
für
Anatomical guide leverages exceptional cadaveric dissection images to elucidate biomechanics of the hand and upper extremity

The hand is a unique instrument that executes the commands of the brain and expresses the nuances of the mind. The Grasping Hand: Structural and Functional Anatomy of the Hand & Upper Extremity by Amit Gupta and Makoto Tamai is a contemporary exploration of the ancient Hindu concept of the Karma Indriyas, the action medium through which the body performs tasks. The state-of-the-art book details the functions of the hand to receive, gather, collect, and hold and the complicit role the upper extremity plays in enabling these actions. The anatomical structures intrinsic to these functions are detailed through illuminating cadaveric dissections and succinct text.

Organized by five sections and 38 chapters, the book begins with a chapter detailing the intriguing history of hand anatomy, followed by a section encompassing structural and functional fundamentals. Section three covers general anatomy and function, with discussion of the nerves and vascularity of the upper extremity, as well as the brachial plexus. Section four features 26 anatomically-organized chapters from the shoulder to the nail and finger pulp, with anatomical insights on the joints, fascia and retincula, interosseus membrane, tendons, and more. The single chapter comprising the final section covers imaging and anatomy.

Key Highlights

- Pioneers in modern hand surgery share vast collective knowledge and pearls on hand and upper extremity anatomy and biomechanics
- About 600 exquisite, original dissections of lightly-embalmed fresh cadaveric arms provide unique visual insights about underlying tissue and structures
- High quality, never before published original photographs enhance understanding of anatomy, physiology, and pathology

This highly practical resource is ideal for reviewing anatomy and biomechanics prior to performing hand, wrist, arm, elbow, and shoulder surgery, making it essential reading for orthopaedic surgeons, fellows, and hand specialists.

This book includes complimentary access to a digital copy on https://medone.thieme.com.