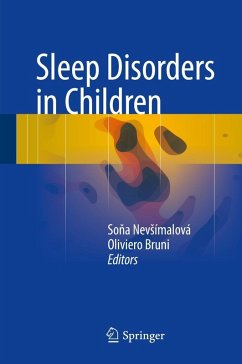 Andere Kunden interessierten sich
auch
für
This book is divided into two parts. The first part is an introduction to childhood sleep physiology and pathology, epidemiology of sleep disorders, and diagnostic procedures. The second part describes the most frequent sleep disorders in greater depth.
Sleep Disorders in Children is aimed at sleep researchers, pediatricians, child neurologists and child psychiatrists, as well as patient organizations and families with affected children.
---
Dieser Download kann aus rechtlichen Gründen nur mit Rechnungsadresse in A, B, BG, CY, CZ, D, DK, EW, E, FIN, F, GB, GR, HR, H, IRL, I, LT, L, LR, M, NL, PL, P, R, S, SLO, SK ausgeliefert werden.
Produktdetails
Verlag: Springer-Verlag GmbH
Erscheinungstermin: 03.10.2016
Englisch
ISBN-13: 9783319286402
Artikelnr.: 46927216
Part I: Introduction.- Ontogeny of Sleep and Its Functions in Infancy, Childhood and Adolescence.- The Discovery of Pediatric Sleep Medicine.- Epidemiology of Sleep Disorders in Children and Adolescents.- New Directions in the Link between Technology Use and Sleep in Young People.- Sleep Laboratory Tests.- Sleep Structure and Scoring from Infancy to Adolescence.- Algorithm for Differential Diagnosis of Sleep Disorders in Children.- Part II: Sleep Disorders.- Sleep Disorders in Newborns and Infants.- Pediatric Insomnia.- Obstructive Sleep Apnea In Children: A Short Primer.- Sleep Disorders in Children: Simple Sleep-Related Movement Disorders.- Circadian Rhythm Disorders in Childhood.- Disorders Associated with Increased Sleepiness.- Parasomnias in Children.- Sleep and Epilepsy.- Sleep in Neurological and Neurodevelopmental Disorders.- Sleep in Children with Psychiatric and Behavioral Problems.- Childhood Sleep and Medical Disorders.
Selected as "Highly Commended" in Neurology at BMA Medical Book Awards for 2017.

"This book, while of manageable size, is sufficiently comprehensive to extend the knowledge and interest of all those who work with children. It is the most up-to-date book on the subject for a problem, which would appear to be becoming more common." (BMA Medical Book Awards, September, 2017)
"This useful overview of insomnia, hypersomnia, parasomnias, and obstructive sleep apnea in children also covers the interaction of sleep disorders with other conditions, such as psychiatric illnesses, epilepsy, and neurodevelopmental disorders. ... It could also be a profitable read for upper-level residents in psychiatry and neurology. ... Overall, this is a high-quality book that has much to recommend it to practitioners who wish to learn more about the clinical aspects of sleep disorders." (Eric Gausche, Doody's Book Reviews, March, 2017)