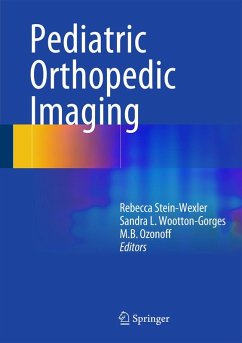 Andere Kunden interessierten sich
auch
für


Chapters on the spine, shoulder, elbow, hand and wrist, hip and pelvis, lower extremity, and foot and ankle address site-specific congenital and acquired lesions. Subsequent chapters cover generalized orthopedic diseases such as neurofibromatosis and osteogenesis imperfecta, infectious processes, neuromuscular diseases, musculoskeletal tumors, trauma, and orthopedic procedures. The chapters review associated epidemiology, clinical presentation and evolution, treatment, and differential diagnoses, with in-depht analysis of imaging characteristics. With more than 1800 images, high-quality MRI, CT, and US examples complement the radiographs of a broad variety of musculoskeletal disorders.

Produktdetails
Verlag: Springer, Berlin
2015
Seitenzahl: 971
Erscheinungstermin: Januar 2015
Englisch
Abmessung: 261mm x 190mm x 45mm
ISBN-13: 9783642453809
ISBN-10: 3642453805
Artikelnr.: 40036062
Introduction.- Spine.- Upper Extremity.- The Hip.- The Lower Extremity.- The Foot.- Generalized Orthopedic Diseases of Childhood.- Neuromuscular Diseases.- Skeletal Trauma.- Orthopedic Procedures.
"It is aimed at providing a deeper understanding of paediatric radiology to residents and fellows, and as a reference text for practicing radiologists. ... The book is an impressive work, especially for congenital and developmental conditions but also for acquired pathologists. We would strongly recommend this book to all radiologists, especially musculoskeletal and peadiatric radiologists, as a useful textbook to read and as a reference to keep by the reporting station." (Dr. Alok Arya and Dr. Asif Saifuddin, RAD Magazine, April, 2016)

"This book covers clearly and comprehensively all the arguments regarding paediatric orthopaedic imaging, giving an exhaustive overview of both focal and generalized musculoskeletal pathology; in this regard it represents a cornerstone in the training of paediatric radiologists. This volume may also stimulate the interest of orthopaedic specialists by providing extensive information in their field of competence." (Camilla Russo and Gianfranco Vallone, European Journal of Nuclear Medicine and Molecular Imaging, Vol. 43, 2016)

"The purpose is to present the imaging techniques used to diagnose children with musculoskeletal trauma and disorders. ... I am not aware of any other significant works dedicated only to the pediatric musculoskeletal system. Medical science libraries are strongly advised to purchase this for their reference section. For radiologists and orthopedists who care for children, this is a must read." (Edward Abraham, Doody's Book Reviews, June, 2015)

"The book is a multiauthored comprehensive text on the field of pediatric orthopaedic radiology that now includes the entire field of pediatric bone conditions and their orthopaedic treatment. ... I recommend the book to all those who image the child to gain both knowledge and understanding." (Alan E. Oestreich, Pediatric Radiology, May, 2015)