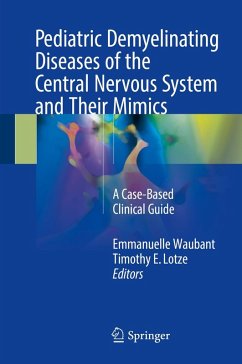 Produktdetails
Artikelnr. des Verlages: 978-3-319-61405-2
1st ed. 2017
Erscheinungstermin: 17. November 2017
Englisch
Abmessung: 245mm x 164mm x 27mm
Gewicht: 698g
ISBN-13: 9783319614052
ISBN-10: 3319614053
Artikelnr.: 48267319
SECTION I: Diseases that Affect the Brain.- 1. Acute Disseminated Encephalomyelitis.- 2. Acute Necrotizing Encephalopathy mimicking ADEM.- 3. Pediatric Multiple Sclerosis Manifesting with Primary Psychiatric Symptoms.- 4. Multiple Sclerosis in the Extremely Young.- 5. Breakthrough Disease in Pediatric MS.- 6. Neuromyelitis Optica Spectrum Disorder with Neuropsychiatric Presentation.- 7. Pediatric Tumefactive Demyelination.- 8. Radiologically Isolated Syndrome.- 9. Anti-Glutamic Acid Decarboxylase Limbic Encephalitis.- 10. Anti-NMDA Receptor Antibody Encephalitis.- 11. Pediatric Central Nervous System Vasculitis.- 12. Neuroinflammatory disease in association with Morphea (Localized Scleroderma).- 13. Susac's Syndrome.- 14. Infectious Mimics of Multiple Sclerosis.- 15. Central nervous system lymphoma.- 16. Methotrexate Toxicity.- 17. Alexander Disease Type II.- 18. Neurodegenerative Langerhans Cell Histiocytosis.- 19. X-linked Adrenoleukodystrophy.- 20. Rapid-onset Obesity with Hypothalamic dysfunction, Hypoventilation and Autonomic Dysregulation (ROHHAD).- 21. ADEM Mimic with Thiamine Transporter Deficiency.- SECTION II: Diseases that Affect the Brainstem.- 22. Acute Disseminated Encephalomyelitis-Brainstem and Cerebellar Presentation.- 23. Multiple Sclerosis with Brainstem Presentation.- 24. Neuromyelitis Optica Spectrum Disorder with Brainstem Presentation.- 25. Infection mimics with brainstem presentation.- 26. Chronic Lymphocytic Inflammation with Pontine Perivascular Enhancement Responsive to Steroids.- SECTION III: Diseases that Affect the Spinal Cord.- 27. Acute Disseminated Encephalomyelitis with Spinal Cord Presentation.- 28. Post-Infectious Acute Transverse Myelitis.- 29. Complete transverse myelitis (idiopathic).- 30. Transverse Myelitis with Acute Inflammatory Polyradiculoneuropathy.- 31. Acute Flaccid Myelitis.- 32. Neuromyelitis optica spectrum disease with transverse myelitis presentation.- 33. Transverse myelitis in lupus.- 34. Acute Demyelination associated with TNF alpha- inhibiting biologic therapy.- 35. Myelopathy due to occult trauma mimicking transverse myelitis.- 36. Hypomyelination with Brainstem and Spinal Cord Abnormalities and Leg Spasticity (HBSL).- SECTION IV: Diseases That Affect the Optic Nerve.- 37. Acute disseminated encephalomyelitis followed by recurrent or monophasic optic neuritis.- 38. Chronic Relapsing Inflammatory Optic Neuropathy (CRION).- 39. Optic Neuritis as the Presenting Symptom for MS.- 40. Steroid Dependent Recurrent Optic Neuritis in Pediatric Multiple Sclerosis.- 41. Neuromyelitis optica presenting with bilateral optic neuritis.- 42. Sarcoidosis with Optic Nerve Presentation.