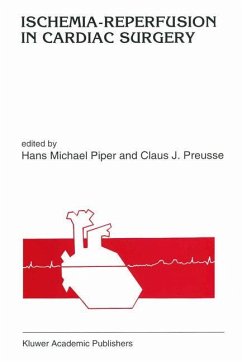 Andere Kunden interessierten sich
auch
für

On the basic science side, major topics discussed are the mechanisms of stunning and lethal reperfusion injury, the role of the endothelium and leukocyte activation in postischemic myocardial dysfunction, and the differences between the adult and neonatal myocardium. On the clinical side, the major concepts and procedures for cardioplegic myocardial protection, their rationales, application and respective merits are discussed. In a third part of the book, possible approaches for the monitoring of myocardial injury during ischemia and reperfusion are evaluated, with particular attention to their intraoperative use.
This book brings together the scientific discussions on ischemia-reperfusion in experimental cardiology and cardiac surgery, a task needed for a long time. It is of general interest for clinicians as well as research workers and students in the cardiac field.

Produktdetails
Developments in Cardiovascular Medicine .142
Softcover reprint of the original 1st ed. 1993
Seitenzahl: 476
Erscheinungstermin: 23. Oktober 2012
Englisch
Abmessung: 240mm x 160mm x 25mm
Gewicht: 754g
ISBN-13: 9789401047500
ISBN-10: 9401047502
Artikelnr.: 39509620
Preface. Part One: Pathophysiology of ischemia and reperfusion. 1. Moderate ischemic injury and myocardial stunning; M.E. Zughaib, P.B. McCay, M.O. Jeroudi, C. Hartley, Jian-Zhong Sun, S. Seikili, Xiao-Ying Li, R. Bolli. 2. Severe ischemic injury and the oxygen paradox; H.M. Piper, B. Siegmund, K.-D. Schlüter. 3. Role of leukocytes in reperfusion injury; S.L. Hale, R.A. Kloner. 4. Ischemia of the neonatal heart; F.M. Lupinetti. Part Two: Concepts of cardioplegia. 5. Cardioplegia with an intracellular formulation; C.J. Preusse. 6. Cardioplegia with an extracellular formulation; D.J. Chambers, M.V. Braimbridge. 7. Blood cardioplegic strategies during adult cardiac operations; G.D. Buckberg, B.S. Allen, F. Beyersdorf. Part Three: Clinical application of cardioplegia. 8. High volume perfusion; I.B. Krukenkamp, C.A. Caldarone, P. Burns, S. Levitsky. 9. Intermittent coronary perfusion; H.D. Schulte. 10. Retrograde perfusion; P. Menasche. 11. Cardiac arrest by ventricular fibrillation; C.W. Akins. 12. Myocardial preservation in the immature heart; J.E. Mayer, Jr. Part Four: Evaluation of cardioplegic methodology. 13. High-energy phosphates and their catabolites; J.W. de Jong, T. Huizer, M. Janssen, R. Krams, M. Tavenier, P.D. Verdouw. 14. Lactate monitoring during and after cardiopulmonary bypass: an approach implicating a perioperative measure for cardiac energy metabolism; E.-G. Krause, D. Pfeiffer, U. Wollenberger, H.-G. Wollert. 15. Myocardialtissue pH in the assessment of the extent of myocardial ischemia and the adequacy of myocardial protection; M.B. Tantillo, S.F. Khuri. 16. Morphology of the acute and chronic ischemic myocardium in man; M. Borgers, W. Flameng. 17. Muscle birefringence; S. Darracott-Cankovic. 18. How to measure cardiac energy expenditure; M.Takaki, T. Namba, J. Araki, K. Ishioka, H. Ito, T. Akashi, Ling Yun Zhao, Dan Dan Zhao, Miao Liu, W. Fujii, M. Takaki, H. Suga. 19. Cardioplegia and cardiac function; D. Baumgart, R. Schulz, T. Ehring, G. Heusch. Index.