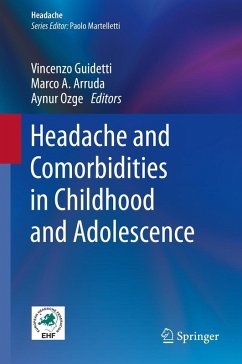 Andere Kunden interessierten sich
auch
für
---
Dieser Download kann aus rechtlichen Gründen nur mit Rechnungsadresse in A, B, BG, CY, CZ, D, DK, EW, E, FIN, F, GB, GR, HR, H, IRL, I, LT, L, LR, M, NL, PL, P, R, S, SLO, SK ausgeliefert werden.
Produktdetails
Verlag: Springer-Verlag GmbH
Erscheinungstermin: 01.09.2017
Englisch
ISBN-13: 9783319547268
Artikelnr.: 53064213
1 Epidemiology of Headache in Children and Adolescents.- 2 Classification and Limits.- 3 Genetics.- 4 Epigenetics.- 5 Headache, Burden and Quality of life.- 6 Bad Life Events (Abuse) and Headache.- 7 Childhood Periodic Syndromes.- 8 Comorbidity with ADHD.- 9 Comorbidity with Asthma and Atopic Disorders.- 10 Comorbidity with Brain Tumors.- 11 Comorbidity with Epilepsy.- 12 Comorbidity with Movement Disorders.- 13 Comorbidity with Psychiatric Disorders.- 14 Comorbidity with Sleep Disorders.- 15 Comorbidity with Vascular Disorders.- 16 Comorbidity with Obesity.- 17 Comorbidity with Learning Disabilities.- 18 Headache and Compliance in Children.- 19 Pharmacological Treatment of Headache with Comorbidities.- 20 Non-pharmacological Treatment of Headache with Comorbidities.- 21 Cognitive Therapy for Headache with Comorbidities.
"The book is written mainly for neurologists and pediatricians, essentially for any practitioners who are responsible for the care of patients with headache disorders and their comorbid conditions. The content and organization of the book helps it to meet the needs of its audience. ... Given that there are few books published on headache and its comorbidities in childhood and adolescence, this one helps meet a need." (Rashmi B. Halker Singh, Doody's Book Reviews, February, 2018)