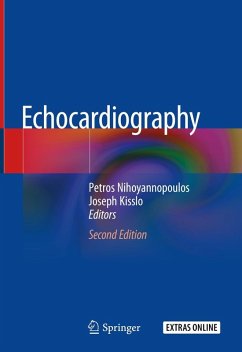 Andere Kunden interessierten sich
auch
für
Echocardiography highlights the clinical utility of these evolving modalities that are now crucial to the renaissance of echocardiography, and it provides a thorough clinical review of this most revealing and adaptable methods of imaging a patient. The Editors and their world-class group of contributors have created an essential reference for those in training or who already use echocardiography in their practice.
---
Dieser Download kann aus rechtlichen Gründen nur mit Rechnungsadresse in A, B, BG, CY, CZ, D, DK, EW, E, FIN, F, GB, GR, HR, H, IRL, I, LT, L, LR, M, NL, PL, P, R, S, SLO, SK ausgeliefert werden.
Produktdetails
Verlag: Springer-Verlag GmbH
Erscheinungstermin: 26.11.2018
Englisch
ISBN-13: 9783319716176
Artikelnr.: 54645228
Physical Principles and the Basic Exam.- Conducting a Cardiac Ultrasound Examination.- Principles of Flow Assessment.- Principles of Hemodynamic Assessment.- Strain And Strain Rate Imaging: A New Clinical Approach To Quantifying.- Transesophageal Echocardiography: Principles and Application.- Aortic Valve Disease.- Mitral Valve Disease.- Tricuspid and Pulmonic Valve Disease.- Pulmonary Hypertension Clinical Echocardiography.- Criteria for Operative Intervention in Valvular Heart Disease Based On Echocardiography.- Clinical Echocardiography Prosthetic Valves.- The Use of Echocardiography In The Diagnosis And Treatment Of Patients With Infective Endocarditis.- Pericardial Effusion, Tamponade, and Constriction.- Clinical Echocardiography, Coronary Artery Disease, Assessing Regional Wall Motion.- Stress Echocardiography.- Principles of Myocardial Viability, Implications for Echocardiography.- Echocardiography for Assessing Acute Myocardial Infarction.- Mechanical Complications of Myocardial Infarction.- Cardiomyopatihies.- Echocardiography in Heart Failure.- Cardiac Resyncronization Therapy.- Intracardiac Masses.- Aortic Disorders.- Source of Embolus.- Simple Congenital Heart Defects.- Echocardiographic Evaluation of Complex Congenital Heart Disease.- Adult Congenital Heart Disease.- Intraoperative Echocardiography.- Contrast Echocardiography.- Three-Dimensional Echocardiography.- Ultrasound Stethoscopy.- Echo-Guided Interventions.