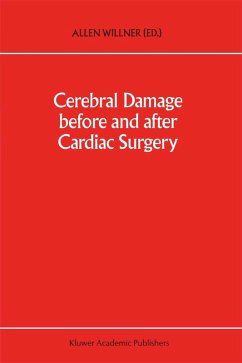 Andere Kunden interessierten sich
auch
für

The causes and incidence of pre- and post-operative cerebral damage are considered in the first section. Cardiac surgery patients frequently have preoperative cerebral impairment, not suprising when one considers the impaired circulation from a damaged heart and the brain's prodigious need for blood. Moreover, several perioperative aspects of surgical procedures have been considered as possible causes of cerebral dysfunction, for example: microbubbles, toxic by-products, non-pulsatile blood flow.
The second section describes how imaging techniques (CT scan, MRI, regional cerebral blood flow imaging), and functional assessment techniques. (PET scan, EEG, BEAM and evoked potentials) can be used to measure cerebral damage.
In the third section, psychometric and neuropsychological techniques are used to assess impaired mental abilities (abstract thinking, language, memory, visuo-spatial ability, mental flexibility, attention and concentration).
The final section explores the relationship between cerebral dysfunction and psychopathology (several types of depression, anxiety, and aspects of organic brain syndrome, delirium and dementia).

Produktdetails
Developments in Critical Care Medicine and Anaesthesiology .27
Softcover reprint of the original 1st ed. 1993
Seitenzahl: 292
Erscheinungstermin: 2. November 2012
Englisch
Abmessung: 240mm x 160mm x 15mm
Gewicht: 471g
ISBN-13: 9789401048187
ISBN-10: 9401048185
Artikelnr.: 39916983
Preface; T. Åberg. Causes of Pre- and Post-operative Cerebral Damage. The Causes of Preoperative Psychopathology in Cardiac Surgery Patients; R. Meyendorff. Cardiac Surgery and Acute Neurological Injury; J.C. Opie. Prevalence and Causes of Cerebral Complications in Cardiac Surgery; K.A. Sotaniemi. Perfusion Related Parameters Affecting Cerebral Outcome after Cardiac Surgery; M. Kurusz. The Role of the Surgical Team in Minimizing Postoperative Cerebral Dysfunction; J.D. Katz. The Causes of Postoperative Cerebral Damage; P.L.C. Smith, S.P. Newman. Central Nervous Risk Factors in Cardiac Surgery; G. Rodewald, B. Dahme, Th. Emskotter, P. Gotze, L. Lachenmeyer, U. Lamparter, P. Kalmar, H.-J. Krebber, H.-J. Meffert, H. Pokar. Techniques for Assessing Cerebral Damage. Neuropsychological Methods for Evaluating Regional Brain Dysfunction; R. Gur. Computerized EEG in Cardiac Surgery; E.H.J.F. Boezeman, J.A. Leusink, F.E.E. Vermeulen. Clinical Electroencephalographic Assessment of Cerebral Impairment; F. Struve. The Promise and Peril of Topographic Mapping of Quantified Brain Electrical Activity; F. Struve. Real-Time Multichannel Quantitative EEG Monitoring; R.J. Chabot, E.R. John, L.S. Prichep, P.M. Landau, W.O. Isom, L.D. Gugino. Psychological Damage. Impairment in Basic Cognitive Functioning: Attention, Concentration, and Mental Flexibility; H.-J. Meffert, B. Dahme. The Use of Neuropsychological Tests as Criteria of Brain Dysfunction in Cardiac Surgery Research; A.E. Willner. Neuropsychological Dysfunction before and after Cardiac Surgery; A.E. Willner. Psychopathology. Emotional Reactions to Cardiac Surgery; P. Gotze, B. Dahme, G. Huse-Kleinstoll, H.-J. Meffert.Adjustment Disorder in Cardiac Surgery Patients; P. Tienari. Major Depression and Adjustment Disorder with Depressed Mood or Depressive Disorders; C.J. Rabiner. Organic Mental Disorders in Cardiac Surgery; K.A. Sotaniemi. Index.