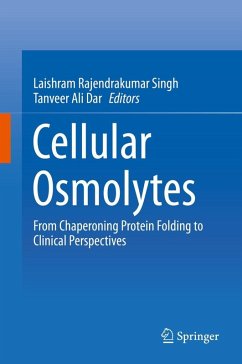 Andere Kunden interessierten sich
auch
für
Additionally, recent advances have also revealed that certain specific osmolytes might be key biomarkers of cancer, infectious diseases and vaccine flocculation. In fact, a large pool of data has been generated regarding their potential for the therapeutic intervention of neurodegenerative diseases and other metabolic disorders caused by protein aggregation or proteostasis failure.
Reflecting the multiple applications of these small molecules in the health and other industries, this book combines contributions by respected leaders in the field and will help to inspire college students, basic researchers, and clinicians to translate these biological roles of osmolytes into clinical practice. It will also shed light on some important future prospects of osmolytes like their role as drug excipients and provide a deeper understanding of their mechanism of action in the prevention of neuro-degenerative diseases.
---
Dieser Download kann aus rechtlichen Gründen nur mit Rechnungsadresse in A, B, BG, CY, CZ, D, DK, EW, E, FIN, F, GB, GR, HR, H, IRL, I, LT, L, LR, M, NL, PL, P, R, S, SLO, SK ausgeliefert werden.
Produktdetails
Verlag: Springer-Verlag GmbH
Erscheinungstermin: 16.05.2017
Englisch
ISBN-13: 9789811037078
Artikelnr.: 53036487
Polyols as exceptional Protein stabilizers.- Osmolyte mixtures versus individuals in protein folding and aggregation.- Molecular insights of Osmolyte-protein Interaction.- MDS simulation studies on osmolyte protein interactions.- Osmolytes as protein aggregation Modifiers.- Osmolytes as Nano-probes of conformational changes.- Inhibition of Protein fibrillation by Chemical chaperones: a Therapeutic strategy.- Osmolyte in Infectious Diseases.- Possible strategies for the therapeutic intervention of osmolyte in Cancer.- Antioxidant osmolytes.- Advances on the in vivo studies of the effect of osmolyte on various pathophysiological conditions.- TMAO in alpha Synuclein aggregation.- Osmolytes: from cell physiology to Disease Prevention.- Osmolytes in Cell-volume Regulation.- Role of Osmolytes in counteracting the deleterious effects of denaturant/pressure.