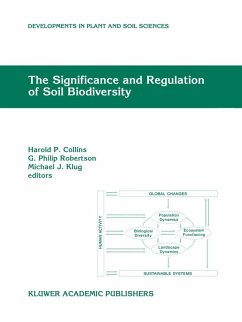 Andere Kunden interessierten sich
auch
für
The Significance and Regulation of Soil Biodiversity presents the discussions of a group of soil biologists and ecosystem ecologists in which they synthesize available information, present innovative methodologies, and develop cross-taxa and cross-habitat collaborations to advance our understanding of soil biodiversity.
The volume addresses the extent and regulation of soil biodiversity and describes initial approaches to the linking of soil biodiversity and ecosystem function.
Audience: Researchers and students in a wide range of environmental scientific disciplines.
Produktdetails
Developments in Plant and Soil Sciences 63
Verlag: Springer / Springer Netherlands
Artikelnr. des Verlages: 978-0-7923-3138-4
1995.
Seitenzahl: 308
Erscheinungstermin: 31. Mai 1995
Englisch
Abmessung: 260mm x 183mm x 21mm
Gewicht: 803g
ISBN-13: 9780792331384
ISBN-10: 0792331389
Artikelnr.: 23148422
Preface. Biodiversity and Ecosystem Approaches. A Hierarchical Approach to Evaluating the Significance of Soil Biodiversity to Biogeochemical Cycling; M.H. Beare, D.C. Coleman, D.A. Crossley, P.F. Hendrix, E.P. Odum. Mutualism and Biodiversity in Soils; P. Lavelle, C. Lattaud, D. Trigo, I. Barios. The Detritus Food-Web and the Diversity of Soil Fauna as Indicators of Disturbance Regimes in Agro-Ecosystems; D.A. Wardle, G.W. Yeates, R.N. Watson, K.S. Nicholson. Microbial Population Dynamics. Patterns and Regulation of Mycorrhizal Plant and Fungal Activity; E.B. Allen, M.F. Allen, D.J. Helm, J.M. Trappe, R. Molina, E. Rincon. Processes that Maintain Local Species Diversity of Ectomycorrhizal Fungi; T.D. Bruns. Soil Microbial Diversity and the Sustainability of Agricultural Soils; A.C. Kennedy, K.L. Smith. The Functional Significance of Microbial Biomass in Organic and Conventionally Managed Soils; M.M. Wander, D.S. Hendrick, D. Kaufman, S.J. Traina, B.R. Stinner, S. Kehermeyer, D.C. White. Fatty Acid Methyl Ester (FAME) Profiles as Measures of Soil Microbial Community Structure; M.A. Cavigelli, G.P. Robertson, M.J. Klug. Discrimination of Microbial Diversity by Fatty Acid Profiles of Phospholipids and Lipopolysaccharides in Differently Cultivated Soils; L. Zelles, R. Rackwitz, Q.Y. Bai, T. Beck, F. Beese. Effects of Previous Intensive Agricultural Management on Microorganisms and the Biodiversity of Soils; J. Filser, H. Fromm, R.F. Nagel, K. Winter. Divergence of Mycorrhizal Fungal Communities in Crop Production Systems; J.W. Hendrix, B.Z. Guo, Z.-Q. An. Biodiversity and Species Redundancy among Litter Decomposers; O. Andren, J. Bengtsson, M. Clarholm. The Role of Glutamine Synthetase in Regulation of Nitrogen Metabolism within the Soil Microbial Community; G.W. McCarthy. Cellulose Degrading Fungi in Soil; R.E.J. Boerner, J. Rebbeck. Decomposition and Nitrogen Release from Leaves of Three Hardwood Species Grown under Elevated O3 and/or CO2; L.R. Durrant, E. Canale-Parola, S.B. Leschine. Interpreting Soil Ciliate Biodiversity; S.B. Bamforth. Soil Faunal Relationships. Measures of Nematode Community Structure and Sources of Variability among and within Agricultural Fields; D.A. Neher, S.L. Peck, J.O. Rawlings, C.L. Campbell. Analysis of Nematode Trophic Structure in Agroecosystems: Functional Groups versus High Resolution Taxonomy; R.W. Parmelee, P.J. Bohlen, C.A. Edwards. Relationships among Microarthropods, Fungi, and Their Environment; J.N. Klironomos, B. Kendrick. The Spatial Heterogeneity of Soil Invertebrates and Edaphic Properties in an Old Growth Forest Stand in Western Oregon; C.E. Torgersen, J.A. Jones, A.R. Moldenke, M.P. LeMaster. Population Dynamics and Functional Roles of Enchytaeidae (Oligochaeta) in Hardwood Forest, and Agricultural Ecosystems; P.C.J. van Vliet, M.H. Beare, D.C. Coleman. How Do Earthworms Affect Microfloral and Faunal Community Diversity? G.G. Brown: Earthworm Community Structure and Diversity in Experimental Agricultural Watersheds in Northeastern Ohio; P.J. Bohlen, W.M. Edwards, C.A. Edwards. Earthworm Population Size, Composition, and Microbial Biomass: The Effect of Pastoral and Arable Management in Canterbury, New Zealand; R.J. Haynes, P.M. Fraser, P.H. Williams. Leaf Litter Decomposition and Microarthropod Abundance along an Altitudinal Gradient; C.M. Hoover, D.A. Crossley Jr.
'I believe the book to be a valuable resource for students and researchers interested in soils, and especially the area of soil biodiversity. I found the review chapters in the compilation to be excellent. Also, many of the conventional papers are worthy companions. ... this book would be a valuable addition to the library.' -- Ecology, 77:7 (1996)