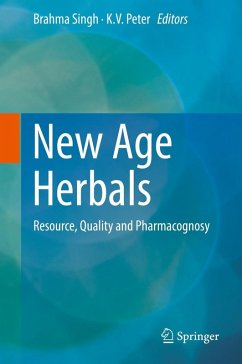 Andere Kunden interessierten sich
auch
für
Produktdetails
Verlag: Springer / Springer, Berlin
Artikelnr. des Verlages: 978-981-10-8290-0
1st ed. 2018
Erscheinungstermin: Mai 2018
Englisch
Abmessung: 241mm x 159mm x 30mm
Gewicht: 938g
ISBN-13: 9789811082900
ISBN-10: 9811082901
Artikelnr.: 50534409
1.Introduction

2. Indian Genetic Resources of Medicinal plants

3.Cultivation and Bioprospecting of Medicinal Plants

4.New Age Medicinal Plants 

   (a) Research and Development on Noni (Morinda citrifolia)

   (b) Indian Seabuckthorn (Hippophae rahmnoides)

   (c) Research and Development on Artemisia annua

5.New Age Herbal Veterinary Medicines

6.Improved varieties and hybrids of medicinal and aromatic plants.

7.Quality control of raw material of medicinal and aromatic plants

8.Quality control on herbal raw material. 

9. Phyto-adaptogen and promoting adaptation 

10. Ayurvedic medicinal plants with neuronutrient and immuno-enhancing effects.

11. ICAR, Research and Development on Medicinal Plants.

12.Common diseases and insect-pest management in medicinal plants.

13.PPV&FRA and Indian Medicinal plants.

14. Medical Radiation Countermeasures: Herbal solutions, Evidences and Challenges therein.

15.DRDO Herbal Research

16. Advances in Phytomedicines --- tentative
17.Proposed Policy for Promotion of Herbal Industry in India

18.Role of Biotechnology in Improvement of Medicinal Plants.