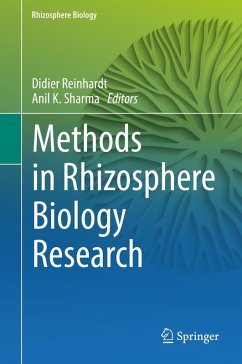 Andere Kunden interessierten sich
auch
für
---
Dieser Download kann aus rechtlichen Gründen nur mit Rechnungsadresse in A, B, BG, CY, CZ, D, DK, EW, E, FIN, F, GB, GR, HR, H, IRL, I, LT, L, LR, M, NL, PL, P, R, S, SLO, SK ausgeliefert werden.
Produktdetails
Verlag: Springer-Verlag GmbH
Erscheinungstermin: 29.03.2019
Englisch
ISBN-13: 9789811357671
Artikelnr.: 55982322
Part I: Root symbioses.- Chapter 1. Synthetic plasmids to challenge symbiotic nitrogen fixation between rhizobia and legumes. - Chapter 2. In vivo analysis of rhizosphere enzyme activities by the use of plastic syringes.- Chapter 3. Characterization of arbuscular mycorrhizal communities in roots of vineyard plants .- Chapter 4. Molecular methods for research on actinorhiza .- Chapter 5. Molecular and functional characterization of beneficial bacteria associated with AMF spores .- Part II: Plant pathogens and microbial plant protection.- Chapter 6. Oomycete-root interactions .- Chapter 7. Exploitation of rhizosphere microbiome services.- Chapter 8. Methods for detecting biocontrol and plant growth-promoting traits in rhizobacteria .- Chapter 9. A split-root method to study systemic and heritable traits induced by Trichoderma in tomato plants .- Part III: Experimental approaches and analytical techniques in rhizosphere biology.- Chapter 10. Using a tri-isotope ( 13 C, 15 N, 33 P) labelling method to quantify rhizodeposition .- Chapter 11. Microscopic techniques coupled to molecular and genetic approaches to highlight cell-type specific differences in mycorrhizal symbiosis .- Chapter 12. From imaging to functional traits in interactions between roots and microbes .- Chapter 13. Live imaging of arbuscular mycorrhizal symbiosis .- Chapter 14. Microcosm approaches to investigate multitrophic interactions in microbial communities .- Chapter 15. Analysis of common mycorrhizal networks in microcosms.