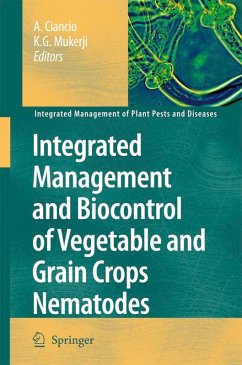 Produktdetails
Integrated Management of Plant Pests and Diseases Vol.2
Verlag: Springer Netherlands
Artikelnr. des Verlages: 11688945
Erscheinungstermin: 19. Dezember 2007
Englisch
Abmessung: 243mm x 162mm x 19mm
Gewicht: 764g
ISBN-13: 9781402060625
ISBN-10: 1402060629
Artikelnr.: 22901016
Nematodes in Biological Control.- Biological Control Potentials Of Predatory Nematodes.- Integration of Biological Control with other Methods of Nematode Management.- Mode of Action and Interactions of Nematophagous Fungi.- Crops Ecology and Control.- Control and Management of Plant Parasitic Nematode Communities in a Soil Conservation Approach.- Management of Nematodes of Andean Tuber and Grain Crops.- Ipm of Soybean Cyst Nematode in The Usa.- The Soybean Cyst Nematode Heterodera Glycines Ichinohe, 1952 in Argentina.- Nematode Management in Cotton.- Technological Advances in Sustainable Management.- The Potential of Rna Interference for the Management of Phytoparasitic Nematodes.- Potential Use of Pasteuria Spp. In The Management of Plant Parasitic Nematodes.- Sustainable Methods For Management Of Cyst Nematodes.- Biofumigation To Manage Plant-Parasitic Nematodes.- Data Analysis and Knowledge-based Applications.- Global Knowledge And Its Application For The Integrated Control And Management Of Nematodes On Wheat.- Integrated Management Of Root-Knot Nematodes In Mediterranean Horticultural Crops.- Modeling Nematodes Regulation By Bacterial Endoparasites.
From the reviews:

"This book is a useful, up-to-date introduction to management of nematodes of broad-acre grain crops, and vegetable crops grown on a much smaller scale. ... This reference book should be included in all agricultural libraries. It will be useful for both students and practitioners such as agronomists, and will hopefully raise awareness of alternative methods of nematode control - particularly for horticulture." (Kerrie Davies, Australian Nematology Newsletter, Vol. 21 (1), 2009)