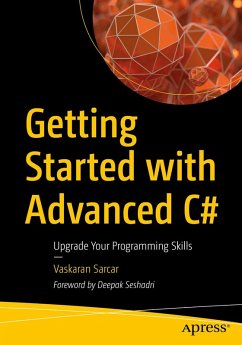 Andere Kunden interessierten sich
auch
für
The book is divided into two parts. Part I covers the fundamentals and essentials of advanced programming in C#. You will be introduced to delegates and events and then move on to lambda expressions. Part II teaches you how to implement these features in different programming techniques, starting with generic programming. After that, you will learn about thread programming and asynchronous programming, to benefit from a multi-threaded environment. Finally, you will learn database programming using ADO.NET to connect to a MySQL database and you will know how to exercise SQL statements and stored procedures through your C# applications.
What You Will Learn
Use delegates, events, and lambda expressions in advanced programming
Make your application flexible by utilizing generics
Create a fast application with multi-threading and asynchronous programming
Work in Visual Studio Community Edition, which is the most common IDE for using C#
Understand alternative implementations along with their pros and cons
Who This Book Is For
Developers and programmers who are already working in C#
---
Dieser Download kann aus rechtlichen Gründen nur mit Rechnungsadresse in A, B, BG, CY, CZ, D, DK, EW, E, FIN, F, GR, HR, H, IRL, I, LT, L, LR, M, NL, PL, P, R, S, SLO, SK ausgeliefert werden.
Produktdetails
Verlag: Springer-Verlag GmbH
Seitenzahl: 396
Erscheinungstermin: 25. Juni 2020
Englisch
ISBN-13: 9781484259344
Artikelnr.: 59752341
Introduction
Part-I
Chapter 1: Delegates
Subtopics:
· What is a delegate?
· How to create and use delegates?
· What is a multicast delegate (Chaining of Delegates) and its uses?
· Adding and removing methods from a multicast delegate.
· Covariance and contravariance in non-generic delegates.
Chapter 2: Events
Subtopics:
· Events overview
Creation of events and example of simple events
Subscribing single and multiple events
Passing data to events
Discussion on event accessors
Chapter 3: Anonymous Function and Lambda Exp.
Subtopics:
· A quick introduction to anonymous function and lambda expression.
Lambda's with and without parameters
Types and scopes of a lambda expression
Expression syntaxes with example
Chapter 4: LINQ
Subtopics:
LINQ overview
Different case studies with simple and complicated query expressions
Retrieving customized data from a query expression
Comparing a method call syntax and a query syntax.
Part-II
Chapter 5: Generic Programming
Subtopics:
Generics overview
Comparing a generic program with its counterpart-a non-generic program
Self-referenced generics
Use of 'default' in a generic program
How to put constraints in a generic program
Covariance and contravariance in the context of a generic program
Chapter 6: Database Programming
Subtopics:
· How to connect to a database
· Exercise simple queries to database and retrieving results from the database.
Chapter 7: Thread Programming
Subtopics:
Threads overview
Different case studies with multithreaded programs
Use of ParameterizedThreadStart delegate in a multithreaded environment
Passing multiple parameters to a thread
Discussion on Synchronization and deadlock with examples
Chapter 8: Asynchronous Programming
Subtopics:
Brief overview
Different techniques to implement an asynchronous program(e.g. using async/await, thread, thread pool etc)
Chapter 9: Dynamic Programming
Subtopics:
DLR overview
Dynamic type and its uses
Dynamic type checking
Runtime look up etc.
Es gelten unsere Allgemeinen Geschäftsbedingungen: www.buecher.de/agb
Impressum
www.buecher.de ist ein Shop der
buecher.de GmbH & Co. KG
Bürgermeister-Wegele-Str. 12,
86167 Augsburg
Amtsgericht Augsburg HRA 13309
Persönlich haftender Gesellschafter: buecher.de Verwaltungs GmbH
Amtsgericht Augsburg HRB 16890

Vertretungsberechtigte:
Günter Hilger, Geschäftsführer
Clemens Todd, Geschäftsführer

Sitz der Gesellschaft:Augsburg
Ust-IdNr. DE 204210010
---
Bitte wählen Sie Ihr Anliegen aus.