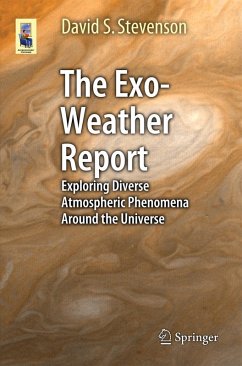 Produktdetails
Astronomers' Universe
Artikelnr. des Verlages: .978-3-319-25677-1, 978-3-319-25677-1
1st ed. 2016
Erscheinungstermin: 5. September 2016
Englisch
Abmessung: 238mm x 161mm x 24mm
Gewicht: 766g
ISBN-13: 9783319256771
ISBN-10: 3319256777
Artikelnr.: 43761190
Part I Learning by Observing our World.- Introducing Earthly Meteorology.- Tales of Mass Destruction.- Part II - Other Worlds in the Solar System.- Venus.- The Wispy Weather of Mars.- The King of Planets.- The Ring World.- Uranus.- Neptune, Pluto and the Kuiper Belt.- Part III - Beyond our Solar Realms.- Tales of Other Worlds.- Stellar Weather.- Storm Fronts in Galaxy Clusters.- Glossary.- Bibliography.
"The Exo-Weather Report expands the study of meteorology beyond the Earth to the most distant planets of the galaxy—interpreting and utilizing 'weather' language to deal with stars and even galaxies. … Summing Up: Recommended. … Lower-division undergraduates and general readers." (M.-K. Hemenway, Choice, Vol. 55 (1), September, 2017)