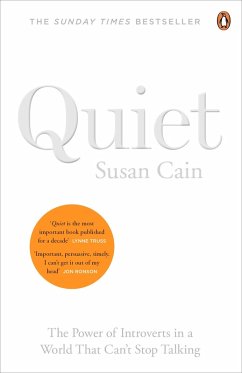 Geräte: eReader

mit Kopierschutz

Größe: 0.48MB

FamilySharing(5)
Andere Kunden interessierten sich
auch
für
SUSAN CAIN'S NEW BOOK, BITTERSWEET, IS AVAILABLE TO PRE-ORDER NOW
A SUNDAY TIMES AND NEW YORK TIMES BESTSELLER, THIS BOOK WILL CHANGE HOW YOU SEE INTROVERTS - AND YOURSELF - FOREVER.
Our lives are driven by a fact that most of us can't name and don't understand. It defines who our friends and lovers are, which careers we choose, and whether we blush when we're embarrassed.
That fact is whether we're an introvert or an extrovert.
The most fundamental dimension of personality, at least a third of us are introverts, and yet shyness, sensitivity and seriousness are often seen as a negative. Some of the world's most talented people are introverts
-
without them we wouldn't have the Apple computer, the theory of relativity and Van Gogh's sunflowers. In
Quiet
, Susan Cain shows how society misunderstands and undervalues introverts while giving them the tools to better understand themselves and take full advantage of their strengths.
Passionately argued, superbly researched, and filled with real stories, whether an introvert or extrovert, this book will change how you see human beings for good.
*****
'I can't get Quiet out of my head. It is an important book - so persuasive and timely and heartfelt it should inevitably effect change in schools and offices' Jon Ronson, The Guardian


'Susan Cain's Quiet has sparked a quiet revolution . . . Perhaps rather than sitting back and asking people to speak up, managers and company leaders might lean forward and listen' Megan Walsh, The Times

'Maybe the extrovert ideal is no longer as powerful as it was; perhaps it is time we all stopped to listen to the still, small voice of calm' Daisy Goodwin, The Sunday Times
---
Dieser Download kann aus rechtlichen Gründen nur mit Rechnungsadresse in A, B, BG, CY, CZ, D, DK, EW, E, FIN, F, GR, HR, H, IRL, I, LT, L, LR, M, NL, PL, P, R, S, SLO, SK ausgeliefert werden.