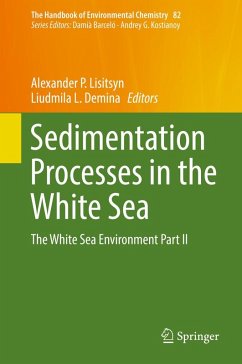 Andere Kunden interessierten sich
auch
für


The topics addressed include suspended particulate matter as a main source and proxy of the sedimentation processes in the White Sea; vertical fluxes of dispersed sedimentary matter and absolute masses in the White Sea; and the development history and quaternary deposits of the modern White Sea basin. The authors closely examine the abundance and species composition of microalgae associations and the environmental conditions in the bottom sediments of the White Sea, namely, heavy metal accumulation and aliphatic and polycyclic aromatic hydrocarbons.

The book ends contain a summary of the key conclusions and recommendations. Together with the companion volume Biogeochemistry of the Atmosphere, Ice and Water of the White Sea: The White Sea Environment Part I, it offers an essential source of information for postgraduate students, researchers, and stakeholders alike.


Produktdetails
The Handbook of Environmental Chemistry 82
Verlag: Springer / Springer, Berlin
Artikelnr. des Verlages: 978-3-030-05110-5
1st ed. 2018
Erscheinungstermin: 9. Januar 2019
Englisch
Abmessung: 241mm x 160mm x 23mm
Gewicht: 640g
ISBN-13: 9783030051105
ISBN-10: 3030051102
Artikelnr.: 54412497
Introduction.- Suspended Particulate Matter as a Main Source and Proxy of the Sedimentation Processes.- Vertical Fluxes of Dispersed Sedimentary Matter, Absolute Masses of the Bottom Sediments, and Rates of Modern Sedimentation.- Diatoms and aquatic palynomorphs in the White Sea sediments as indicators of sedimentation processes and paleoceanography.- Mineral Composition of Pelitic Fraction of Dispersed and Consolidated Sedimentary matter in the White Sea.- Development History and Quaternary Deposits of the White Sea Basin.- Processes of Early Diagenesis in the Arctic Seas (on the Example of the White Sea).- Mercury Distribution in Bottom Sediments of the White Sea and the Rivers of Its Basin.- Occurence Forms of Heavy Metals in the Bottom Sediments of the White Sea.- Oil Compounds in the Bottom Sediments of the White Sea.- Conclusions.