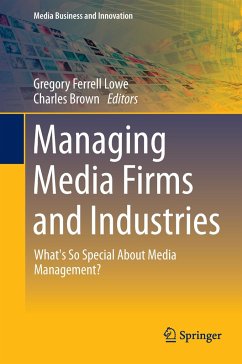 Produktdetails
Media Business and Innovation
Artikelnr. des Verlages: 86373755
1st ed. 2016
Erscheinungstermin: 31. August 2015
Englisch
Abmessung: 247mm x 167mm x 27mm
Gewicht: 725g
ISBN-13: 9783319085142
ISBN-10: 331908514X
Artikelnr.: 40936652
Forward.- Introduction.- Part I: Scholarship and Distinction.- Part II: Governance and Accountability.- Part III: Business and Economics.- Part IV: Products and Markets.- Part V: Leadership and Labour.
"This book certainly makes progress in establishing credible and well-researched literature in an underdeveloped academic and professional discipline. It not only gives clarity and backing from pre-established theoretical approaches on how to better understand the imminent importance of media management, but also covers a cohesive range of factors, both internal and external, that impact management in practice." (Melissa Katherine Louie, Fudan Journal of the Humanities and Social Sciences, Vol. 11, 2018)