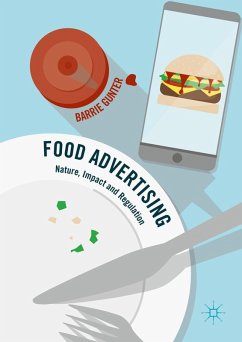 Produktdetails
Artikelnr. des Verlages: .978-3-319-40705-0
1st ed. 2016
Erscheinungstermin: 17. November 2016
Englisch
Abmessung: 218mm x 151mm x 25mm
Gewicht: 540g
ISBN-13: 9783319407050
ISBN-10: 3319407058
Artikelnr.: 45005031
1.What are the Concerns about Food Advertising?.- 2.What is the Balance of Evidence for the Effects of Food Advertising?.- 3.What is the Potential for Exposure to Food Advertising?.- 4.Food Advertising: Informative, Misleading or Deceptive?.- 5.Does Food Advertising Influence People's Food Preferences?.- 6.Does Food Advertising Affect People's Health and Well-Being?.- 7.How Important are Other Factors in Understanding Consumers Responses to Food Promotion?.- 8.What Regulatory Challenges Does Food Advertising Present?