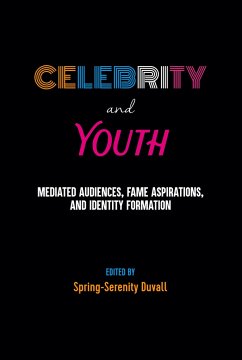 Produktdetails
Mediated Youth .29
Artikelnr. des Verlages: .314310, 314310
Neuausg.
Erscheinungstermin: 10. Januar 2019
Englisch
Abmessung: 228mm x 156mm x 22mm
Gewicht: 457g
ISBN-13: 9781433143106
ISBN-10: 1433143100
Artikelnr.: 54585380
Spring-Serenity Duvall: Introduction - Annebeth Bels/Hilde Van den Bulck: Social Media Celebrities as Salient Resource for Preteens' Identity Work - Ana Jorge/Thays Nunes: WTF : Digital Ambassadors for the Young Generation? - Jessica Birthisel: "INSANE PREGNANCY PRANK ON BOYFRIEND!": Performing Gender, Domestic Assault, and Sexism via Couple's Prank Videos on YouTube - Pilar Lacasa/Julián de la Fuente/Sara Cortés, María Ruth García-Pernía: Adolescents as Cultural Activists: Remixing Celebrities in Fandom Communities - Leigh M. Moscowitz/Andrew C. Billings: Out in Play: Openly Gay Male Athletes Navigate Media, Celebrity, and Fandom - Spring-Serenity Duvall: Believing in Emma Watson: Casual Fandom and Emerging Feminism in Audience Support for the United Nations #HeForShe Campaign - Jessica E. Johnston: Under Western (Girls') Eyes: Cultural Appropriation and Feminism in the Celebrity Fashion of Kendall Jenner and Gigi Hadid - Newly Paul: All-American Girls: Examining the Media Coverage of Malia and Sasha Obama as Young Political Celebrities - Maghan Molloy Jackson: Getting "Out of the Woods" and Coming "Clean": Narrating Happiness in the Music and Celebrity of Taylor Swift - About the Contributors - Index.
"Offering both intersectional and international perspectives on young people and contemporary celebrity culture, Celebrity and Youth: Mediated Audiences, Fame Aspirations, and Identity Formation is a rich contribution to the fields of celebrity studies, youth studies, and media studies. The chapters collected here are sure to expand our critical understanding of not only young celebrities but also how young people engage with fame as they explore, fashion, and perform their own identities."- Mary Celeste Kearney, Director of Gender Studies and Associate Professor of Film, Television, and Theatre, University of Notre Dame