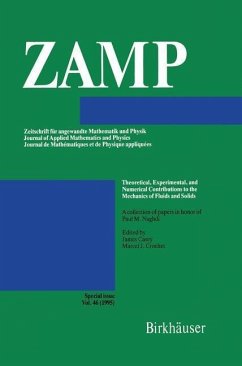 ---
Dieser Download kann aus rechtlichen Gründen nur mit Rechnungsadresse in A, B, BG, CY, CZ, D, DK, EW, E, FIN, F, GR, HR, H, IRL, I, LT, L, LR, M, NL, PL, P, R, S, SLO, SK ausgeliefert werden.
Produktdetails
Verlag: Birkhäuser Basel
Seitenzahl: 852
Erscheinungstermin: 6. Dezember 2012
Englisch
ISBN-13: 9783034892292
Artikelnr.: 53156002
Foreword.- Paul M. Naghdi (1924-1994).- List of Publication of P. M. Naghdi.- I. Nonlinear and Linear Elasticity.- Interfacial and surface waves in pre-strained isotropic elastic media.- Deformations of an elastic, internally constrained material. Part 3: Small superimposed deformations and waves.- On axisymmetric solutions for compressible nonlinearly elastic solids.- On obtaining closed form solutions for compressible nonlinearly elastic materials.- Stress and the moment-twist relation in the torsion of a cylinder with a nonconvex stored energy function.- Conditions on the elastic strain-energy function.- On the stability of a biaxially stressed elastic material with a free surface under variations in surface shape.- Expressions for the gradients of the principal stresses and their application to interior stress concentration.- On the number of distinct elastic constants associated with certain anisotropic elastic symmetries.- Stress and deformation in moderately anisotropic inhomogeneous elastic plates.- II. General Continuum Mechanics.- Remarks concerning forces on line defects.- On entropy and incomplete information in irreversible heat flow.- A system of hyperbolic conservation laws with frictional damping.- Numerical solution of two- and three-dimensional thermomechanical problems using the theory of a Cosserat point.- The relaxation of a decompressed inclusion.- The common conjugate directions of plane sections of two concentric ellipsoids.- III. Plasticity.- Stable response in the plastic range with local instability.- A work-hardening elastic-plastic wedge.- Finite elastic-plastic deformations of an ideal fibre-reinforced beam bent around a cylinder.- The elasto-plastic plate with a hole: Analytical solutions derived by singular perturbations.- Exact stress states and velocity fields in bicrystals at the yield point in channel die compression.- IV. Biological and New Technological Materials.- Stress, strain, growth, and remodeling of living organisms.- Experimental determination of tribological properties of ultra-thin solid films.- The hierarchy of microstructures for low density materials.- Swelling and shrinking of polyelectrolytic gels.- V. Fluid Mechanics.- On gravity waves in channels.- Bragg scattering of water waves by Green-Naghdi theory.- Water waves over a sloping beach in a rotating frame.- An approximate theory for velocity profiles in the near wake of a flat plate.- On the motion of a non-rigid sphere in a perfect fluid.- An adaptive hp-finite element method for incompressible free surface flows of generalized Newtonian fluids.- Viscoelastic effects in film casting.- Experimental evidence for intense vortical structures in grid turbulence.- Evaluation of Reynolds stress turbulence closures in compressible homogeneous shear flow.- A structural theory of anisotropic turbulence.- VI. Dynamics.- The effect of damping on the stability of gyroscopic pendulums.- Dynamical systems considered as ordering machines.- On the advantages of a geometrical viewpoint in the derivation of Lagrange's equations for a rigid continuum.- Author Index.