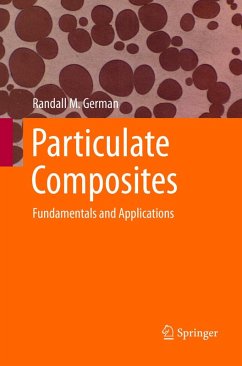 Andere Kunden interessierten sich
auch
für


-Selection of phases with consideration of intersolubility & interface

-Microstructure, especially the role of phase connectivity

-Fabrication approaches, especially net-shape consolidation

-Assessment of typical properties, testing techniques & industry standards

-Design & trade-off decisions involved in optimization, including cost

-Applications, both those that have matured and some emerging prospects.

The reader may have little appreciation for how particulate composites are literally everywhere. Examples include new wear resistant consumer products(Apple watch), longer lasting automotive tires with reduced rolling resistance(Yokohama tires), and new diamond heat sinks for computers(Element Six substrates). Particulate composites also form critical components in applications such as magnets, dental fillings, brakes, darts, bio-implants, & cutting tools. Particulate composites are a multi-billion dollar industry, and can be a cost-effective solution ripe for innovation and continued rapid growth. For the engineer, the wide range of particulate composite formulation and property combinations offers the ability to design for a variety of application and provides ample opportunity for innovation.

Particulate Composites: Fundamentals & Applications is ideal for use in a one-semester eng. course at the senior UG/graduate level, and is also suitable as a practical reference for materials scientists in academia and industry.


Produktdetails
Artikelnr. des Verlages: 978-3-319-80686-0
Softcover reprint of the original 1st ed. 2016
Seitenzahl: 456
Erscheinungstermin: 31. Mai 2018
Englisch
Abmessung: 235mm x 155mm x 24mm
Gewicht: 694g
ISBN-13: 9783319806860
ISBN-10: 3319806866
Artikelnr.: 53573696
Introduction: Definitions, Sense of Field, Diversity, Applications, Systems.- Background Definitions: Key Phrases.- Analysis Techniques: Testing Approaches, Instruments, Data Types, Standards, Data Treatments, Errors, Typical Results.- Property Models: Properties, Porosity, Ratio Rules, Connectivity, Calculations, Simulations.- Constituents: Candidates, Common Phases, Why Used Frequently, Contrast, Compare, Monolithic Options, Maps, Reactions, Solubility, Thermodynamics.- Selection: Particles, Size, Shape, Ratio, Agglomeration, Dispersion, Homogeneity, Coating, Mixing, Packing.- Fabrication: Options, Decision Tree, Shaping Approaches, Densification, Models, Interplay of Powder Size, Composition, Pressure, Temperature, Time.- Microstructures and Interfaces: Interfaces, Grain Size, Shape, Spacing, Connectivity, Wetting, Dihedral Angle, Coarsening, Property Degradations, Defects.- Design: Constituents, Combinations, Components, Particles, Fabrication, Properties, Costs, Quality Requirements, Specifications, Inspection, Acceptance.- Optimization: Search Range, Materials, Compositions, Selection, Fabrication, Microstructure, Interface, Costs, Demonstrations.- Applications: Requirements, Size, Shape, Quantity, Quality, Properties, Costs.- Prospects: Trends, Designs, Applications, Modeling Approaches, Materials, Raw Ingredients, Cost Factors, Opportunities.