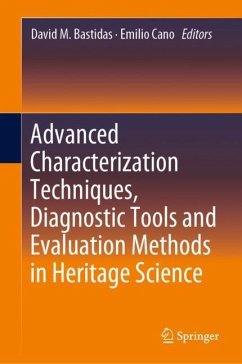 Andere Kunden interessierten sich
auch
für


It examines the use of electrochemical techniques in conservation science, with a particular focus on how to solve problems in taking on-site measurements. Specifically, it introduces readers to a new gel polymer (GPE) electrochemical cell developed by the authors for the characterisation of metallic heritage objects. Other techniques used to characterise and monitor reinforced concrete objects in more modern buildings are also covered, including non-destructive electrochemical techniques that allow steel corrosion to be assessed in these structures, and in those that are used to protect and repair such buildings.

The usefulness of the NMR-Mouse nuclear magnetic resonance sensor in the assessment and preservation of softer heritage materials, such as wood, parchment, bone, and painted walls, is covered, as well as Infrared reflectography for examining paintings and laser cleaning for restoring them. The book introduces ultra-High Performance Liquid Chromatography (u-HPLC) with a diode-array (DAD) and mass-mass (MS-MS) quadruple time-of-flight spectroscopy (QTOF). This new technique can be applied to the analysis and identification of natural and synthetic organic pigments and its use is demonstrated in several case studies.

This book provides a rigorous scientific grounding in the application of state-of-the-art techniques in heritage science and conservation, and offers a practical handbook for practitioners.