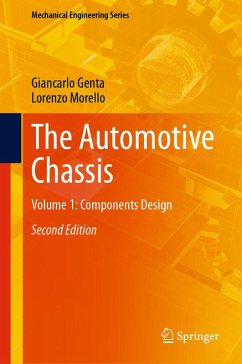 Andere Kunden interessierten sich
auch
für
This textbook draws on the authors' experience gained by teaching courses
for engineering students on e.g. vehicle mechanics, vehicle system design, and chassis
design; and on their practical experience as engineering designers for vehicle and
chassis components at a major automotive company.
The book is primarily intended for students of automotive engineering, but also for all
technicians and designers working in this field. Other enthusiastic engineers will also
find it to be a useful technical guide.
The present volume (The Automotive Chassis - Volume 1: Component Design) focuses
on automotive chassis components, such as:
. the structure, which is usually a ladder framework and supports all
the remaining components of the vehicle;
. the suspension for the mechanical linkage of the wheels;
. the wheels and tires;
. the steering system;
. the brake system; and
. the transmission system, used to apply engine torque to the driving wheels.
This thoroughly revised and updated second edition presents recent developments,
particularly in brake, steering, suspension and transmission subsystems. Special
emphasis is given to modern control systems and control strategies.
---
Dieser Download kann aus rechtlichen Gründen nur mit Rechnungsadresse in A, B, BG, CY, CZ, D, DK, EW, E, FIN, F, GR, HR, H, IRL, I, LT, L, LR, M, NL, PL, P, R, S, SLO, SK ausgeliefert werden.
Produktdetails
Verlag: Springer-Verlag GmbH
Erscheinungstermin: 24.12.2019
Englisch
ISBN-13: 9783030356354
Artikelnr.: 58471536
Es gelten unsere Allgemeinen Geschäftsbedingungen: www.buecher.de/agb
Impressum
www.buecher.de ist ein Shop der
buecher.de GmbH & Co. KG
Bürgermeister-Wegele-Str. 12,
86167 Augsburg
Amtsgericht Augsburg HRA 13309
Persönlich haftender Gesellschafter: buecher.de Verwaltungs GmbH
Amtsgericht Augsburg HRB 16890

Vertretungsberechtigte:
Günter Hilger, Geschäftsführer
Clemens Todd, Geschäftsführer

Sitz der Gesellschaft:Augsburg
Ust-IdNr. DE 204210010
---
Bitte wählen Sie Ihr Anliegen aus.