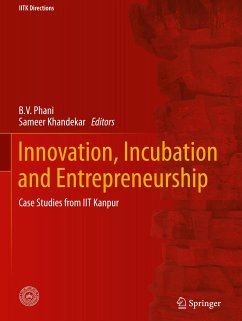 Andere Kunden interessierten sich
auch
für
Produktdetails
IITK Directions 1
Verlag: Springer / Springer, Berlin
Artikelnr. des Verlages: 978-981-10-3333-9
1st ed. 2017
Erscheinungstermin: 23. April 2017
Englisch
Abmessung: 287mm x 217mm x 15mm
Gewicht: 474g
ISBN-13: 9789811033339
ISBN-10: 9811033331
Artikelnr.: 46892985
1. The 4 I's of Innovation by Sanjay Kumar, Pulak Bhushan, Shantanu Bhattacharya 

2. Winds of Change by Rita Singh 

3. The Role of Experimentation in Fostering Innovation by Bishakh Bhattacharya 

4. The Game Changers - Seekers to Creators by Snehil Patil, Devin Haria, Kanupriya Agarwal 

5. Lab to Market: A Case Study by Tarun Gupta 

6. Withering to Weathering - A Farmers' Friend by Sonu Agrawal 

7. Bridging the Technology Gap: Linking IITs with ITIs by S.C. Srivastava 

8. Manning the Unmanned - The Aarav Story by Vipul Singh 

9.  Innovation and Entrepreneurship Ecosystem at IIT Kanpur - A Serendipitous Journey by BV Phani and Sameer Khandekar.