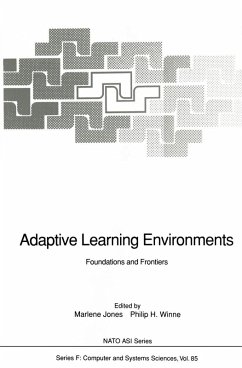 Andere Kunden interessierten sich
auch
für

intersection of two traditionally distinct areas of
research: instructional science and computer science. They
encompass intelligent tutoring systems, interactive learning
environments, and situated learning environments. There is
increasing interest in effective instructional systems from
education, industry, military and government sectors. Given
recent advances in hardware architecture and reduction of
hardware costs, the time is right to define the next steps
in research and development of ALEs.
This book is an outgrowth of the presentations and
discussions that took place at the NATO Advanced StudyInstitute held at the University of Calgary in July 1990. It
contains chapters from both researchers in instructional
science and researchers in computer science on the following
topics:
- Systems and architectures for instruction
- Representing curriculum and designing instructional tasks
- Environments to support learning
- Diagnosing students' learning and adjusting plans for
instruction
- Models of students' metacognition, motivation and learning
strategies
- Student-system interactions.
The book containsintroductions/critiques of each pair of
chapters, and a final chapter discusses the synthesis of
instructional science and computer science.
Produktdetails
NATO ASI Series F: Computer and Systems Sciences Vol.85
Verlag: Springer, Berlin
Softcover reprint of the original 1st ed. 1992
Seitenzahl: 424
Erscheinungstermin: 16. Dezember 2011
Englisch
Abmessung: 242mm x 170mm x 22mm
Gewicht: 723g
ISBN-13: 9783642775147
ISBN-10: 3642775144
Artikelnr.: 36119770
1. Systems and Architectures for Instruction.- Designing Instructional Computing Systems for Meaningful Learning.- Artificial Instruction: A Method for Relating Learning Theory to Instructional Design.- 2. Representing Curriculum and Designing Instructional Tasks.- The Search for Adaptability, Flexibility, and Individualization: Approaches to Curriculum in Intelligent Tutoring Systems.- The Curriculum and Instructional Tasks: Goals, Strategies, and Tactics for Interactive Learning.- 3. Environments to Support Learning.- Exploratory Multi-media Environments.- Technological Support for the Learning and Doing of Design.- 4. Diagnosing Students' Learning and Adjusting Plans for Instruction.- Towards a Computational Model of Tutoring.- Phenomenographic Research and the Design of Diagnostic Strategies for Adaptive Tutoring Systems.- 5. Models of Students' Metacognition, Motivation, and Learning Strategies.- Metacognitive Models of Learning and Instructional Systems Design.- The Language Shift: a Mechanism for Triggering Metacognitive Activities.- 6. Student-System Interactions.- Nobile: User Model Acquisition in a Natural Laboratory.- State-of-the-Art Instructional Computing Systems that Afford Instruction and Bootstrap Research.- 7. Synthesis.- Synthesizing Instructional and Computational Science.- Contributors.